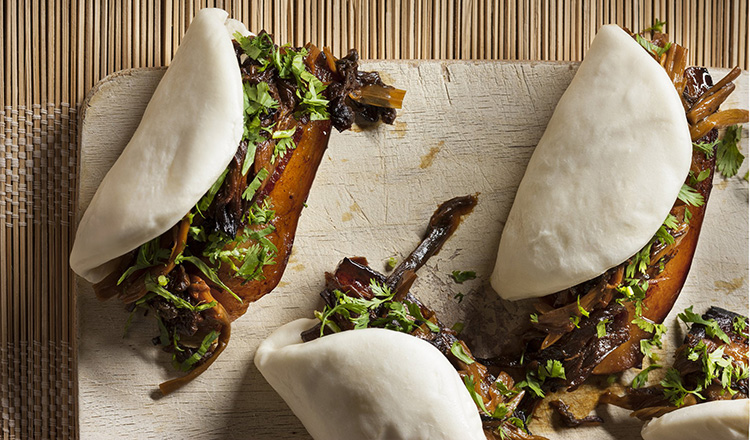 Makes 5 to 6 servings Pork belly is literally the belly portion of the pig. It's where bacon comes from, and like bacon, it is a delicious piece of meat. While it cooks, the fat renders from the belly and naturally bastes the strips of tender meat. Pair it with Carolina Mustard Sauce, or serve… Makes 5 to 6 servings
Pork belly is literally the belly portion of the pig. It's where bacon comes from, and like bacon, it is a delicious piece of meat. While it cooks, the fat renders from the belly and naturally bastes the strips of tender meat. Pair it with Carolina Mustard Sauce, or serve it on steamed buns with herbs and Hoisin-Peanut Sauce.
Ingredients
1/2 cup cider vinegar
1/4 cup Jack Daniels bourbon or other whiskey
1/4 cup honey
2 tablespoons soy sauce
1 tablespoon grainy mustard
1 1/2 teaspoon ground ginger
1 teaspoon crushed red pepper flakes
1 teaspoon freshly cracked black pepper
1 teaspoon garlic powder
1 teaspoon onion powder
One 2 1/2-lb pork belly, skin removed, cut into 3- to 4-inch rectangular strips
Directions
To make the marinade: Combine the vinegar, bourbon, honey, soy sauce, mustard, ginger, red pepper flakes, black pepper, garlic powder, and onion powder in a 1-gallon zip-close plastic bag. Place the pork into the bag, squeeze out all excess air, and seal the bag. Place in the refrigerator for at least 12 hours or overnight, turning the bag over periodically.
Remove the pork from the refrigerator 1 hour before cooking. Remove the pork from the bag, and transfer the marinade to a small saucepan.
Meanwhile, prepare the smoker, grill, or oven: Bring the temperature to 225° to 250°F, fill the water pan, and develop a light smoke. It's important to maintain the proper temperature, so the smoker temperature should stay in the 225° to 250°F range with a small amount of light smoke escaping. Place the pork in the smoking unit. This will cool the unit off, so it may require some adjustments to get the temperature to settle back in the 225° to 250°F range.
While the pork is cooking, bring the marinade to a boil over high heat. Reduce the heat to establish a simmer, and simmer for 3 minutes. Remove the pan from the heat. Baste the pork belly periodically with the marinade.
Try to avoid unnecessarily opening the smoker; it's best to try to go without opening it for an hour or so at a time. Each time you open the cooking unit heat is lost and the cooking time gets extended. When it is necessary to open the smoker, try to do everything at once: add fuel, add smoking material, baste the pork belly, and check the water pan. (Keeping the water pan from drying out is vital to maintaining temperature and keeping the proper moist cooking environment.) Cook until the pork belly reaches an internal temperature of 195°F, 4 to 5 hours. Remove the pork from the smoker and allow to rest for 15 minutes.
To serve, slice the pork into pieces 1/4 to 1/2-inch thick and 3 or 4-inches long.
Copyright © 2021 The Culinary Institute of America