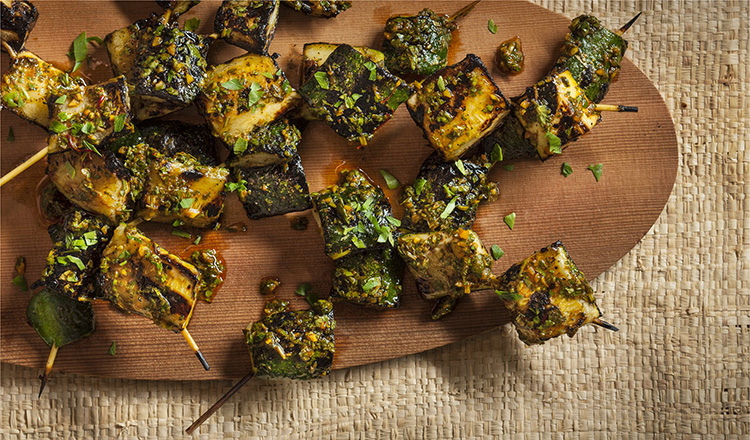 Grilling, or barbecuing, is taken even more seriously in San Antonio, TX than breakfast tacos (which are actually a close second to breathing as far as importance goes). Since moving here two and a half years ago, I have upped my grilling game and learned many more tips. Here are a few to help get your grilling season started:
One of the most important of the Grilling Golden Rules is Thou Shalt Not Use Lighter Fluid. A true 'cue master will use only natural charcoal such as mesquite to start the fire, with a little help from chimney or starter sticks.
Once the charcoal has begun to burn, wood can be added for flavor. Different woods will impart subtle flavor differences but don't be concerned about a wood-food mismatch. Have fun and experiment; you can't go wrong!
The dirtiest part of grilling is the initial set up and getting the coal "food ready." I recommend wearing an old or disposable bib apron and dish or disposable gloves to handle cold coals and wood. Heat-proof gloves are a great investment and make moving the hot coals and grill components very easy and mess free. Keep one or two wet cloth towels on hand to wipe the grill and tools of ashes and other debris that take flight throughout the process.
Once the coals are glowing nicely, spread them evenly, leaving an area "coal-free." This can be used for a low-and-slow process or a warm holding area for finished items such as potatoes, corn, vegetables, sauces, and sides.
Now go call your friends, chill the beverages, throw the lighter fluid in the trash, fire the grill like a pro, and make your neighbors jealous!! Try our grilled zucchini kebabs.
Chef Justin Ward is an assistant professor of culinary arts at the Texas campus. A 1988 graduate of the CIA, he is an ACF-Certified Executive Chef and a medal-winning culinary competitor.