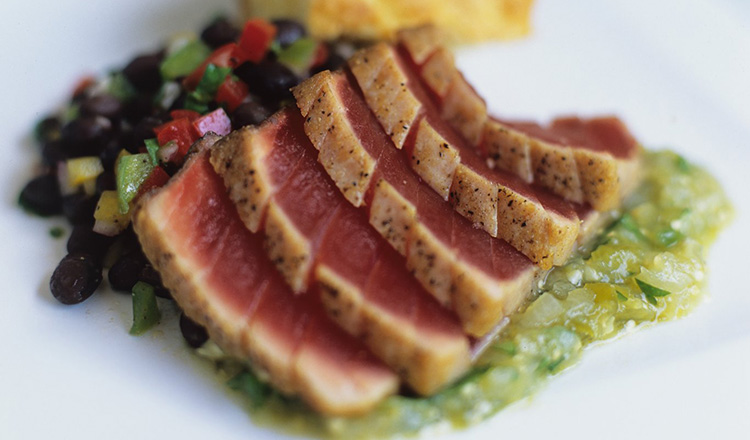 Makes 6 servings
Ingredients
2 lb 4 oz yellow fin tuna fillet 1/4 teaspoon ground cumin 1/2 teaspoon salt 1 tablespoon freshly ground black pepper Salsa Verde 3 tablespoons olive oil, plus as needed, divided use 2 cups finely chopped tomatillos 2 jalapeños, seeds and ribs removed, finely chopped 2 cups finely chopped onion… Ingredients
2 lb 4 oz yellow fin tuna fillet
1/4 teaspoon ground cumin
1/2 teaspoon salt
1 tablespoon freshly ground black pepper
Salsa Verde
3 tablespoons olive oil, plus as needed, divided use
2 cups finely chopped tomatillos
2 jalapeños, seeds and ribs removed, finely chopped
2 cups finely chopped onion
4 garlic cloves, finely chopped
2 tablespoons honey, plus as needed to taste
Juice of 2 limes
2 cups finely chopped cilantro
Directions
Clean the skin and bloodline from the tuna, if necessary. Slice the tuna into 6 even portions. Season the fish with cumin, salt, and pepper. Refrigerate until needed.
To make the salsa verde, heat 2 tablespoons of the oil in a large sauté pan over medium heat.Cook the tomatillos, jalapeño, and onion until softened, about 4 minutes. Add the garlic and cook briefly. Add the honey, lime, salt, and pepper and adjust to taste. Stir in the cilantro. Reserve until needed.
Heat the remaining oil in a large sauté pan over very high heat until the oil is almost smoking. Gently lay the tuna steaks in the pan and brown on each side for about 1 minute, for rare tuna. It may be necessary to cook the tuna in batches. Replenish the oil in the pan as necessary.
Place the tuna on warm plates and spoon about 3 tablespoons of the salsa verde on top of each portion.
Copyright © 2022 The Culinary Institute of America