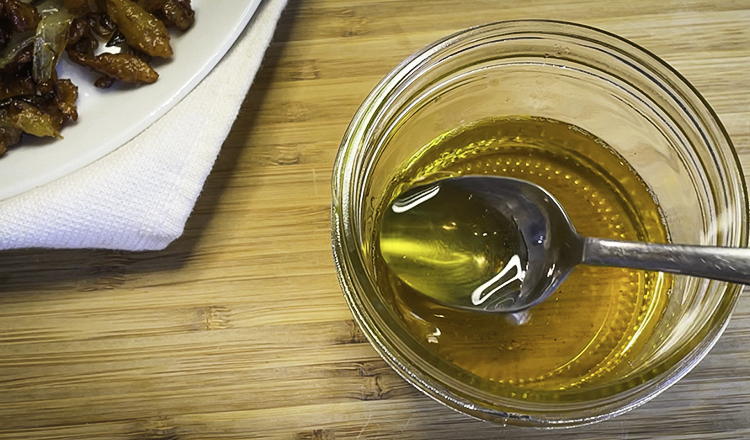 Schmaltz is flavorful rendered chicken fat used traditionally in Jewish cooking. Though you may be able to buy chicken skin from some butchers, you can freeze skin from other uses until you have enough to render. This recipe doubles or even triples well; the quantities don't need to be exact. Makes about 1/2 cup [ingredients… Schmaltz is flavorful rendered chicken fat used traditionally in Jewish cooking. Though you may be able to buy chicken skin from some butchers, you can freeze skin from other uses until you have enough to render. This recipe doubles or even triples well; the quantities don't need to be exact. Makes about 1/2 cup
Passover // Jewish // latkes // matzo balls // matzoh
Ingredients
12 oz chicken skin, from about 6 chicken thighs
3 tablespoons water
1/2 yellow onion, thinly sliced
Directions
In a food processor, pulse the chicken skin until it is finely chopped. Transfer to a large non-stick skillet and add the water.
Cook over medium heat, stirring frequently, until the skin begins to brown around the edges, about 10 minutes.
Add the onion and continue to cook, stirring frequently, until the skin and onions are deeply browned and crispy and the fat has rendered, about 35 minutes. Turn the heat down, if needed, to prevent burning.
Strain the skins through a fine mesh strainer, pushing with a wooden spoon to release all of the fat. Reserve the skins, also known as gribenes, for a chef's treat or another use, and refrigerate the schmaltz until needed.
Copyright © 2022 The Culinary Institute of America