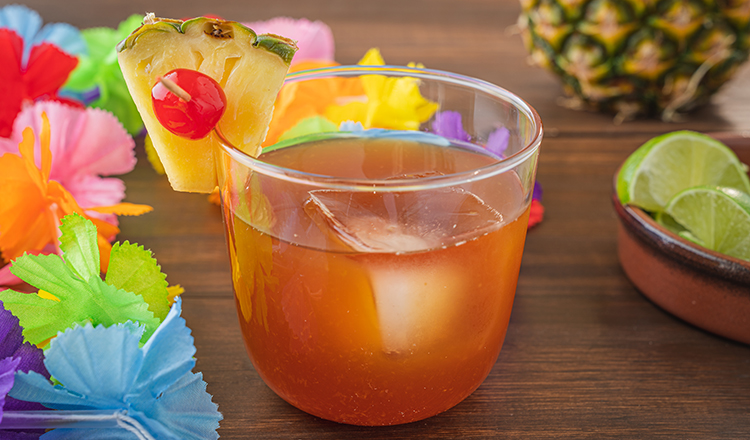 There's one weekend of summer left (what!?), which kind of begs for a party!
If you're throwing together a last-minute get-together, there is no better strategy than to make it a tiki party—and here's why:
Fun outfits.
Tasty drinks.
Delicious but low-effort food.
Quality kitsch décor.
Extraordinary music.
OK, so now that you're convinced, let's talk about tiki.
When we say tiki party or tiki lounge, we're talking about a culture (a vibe!), but an idealized fantasy culture more than an authentic one. That's why pinning down what is "authentically tiki" is so hard—or impossible, really. Tiki culture is the essence of the South Pacific, but it doesn't truly represent the people or traditions of Polynesian people or places.
Tiki food may not be traditional Hawaiian or Polynesian food, but we're all very familiar with the tropical, Asian-inspired flavors. Pineapples, macadamia nuts, sweet and sour sauces (like with these Sweet and Sour Shrimp Lettuce Wraps) and meat skewers are very common, but you'll also see dishes like crab Rangoon pupu platters with sticky, glazed meats, and pot stickers.
For drinks, the cult of tiki cocktails goes well beyond piña coladas! Rum in its many forms are king, paired with fruit juices and spiced liqueurs and syrup. You'll commonly see Velvet Falernum, a clove-spiced liqueur, alongside orgeat syrup, made from almonds and rose or orange water. Look for recipes that suit your fancy, or experiment with a tiki punch that's all your own!
And don't forget about the kids! A classic tiki dessert, Hawaiian-Style Shaved Ice is perfect for sticky, little hands. You can serve it in paper cups or even hollowed-out mini pineapples, if you're really going for it. And don't forget the chocolate-covered macadamia nuts!