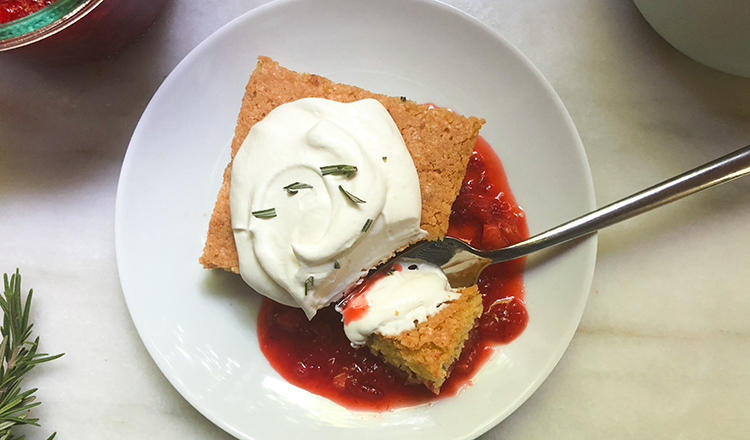 Makes 12 servings This recipe is adapted from the menu of the Gatehouse restaurant on the CIA's Napa campus in St. Helena, California. It is sweet and savory (mostly sweet!) and is the perfect way to showcase in season strawberries, though we think peaches would also be delicious. The whipped cream is unsweetened, but you… Makes 12 servings This recipe is adapted from the menu of the
Gatehouse
restaurant on the
CIA's Napa campus
in St. Helena, California. It is sweet and savory (mostly sweet!) and is the perfect way to showcase in season strawberries, though we think peaches would also be delicious. The whipped cream is unsweetened, but you could add a few tablespoons of confectioners' sugar, if you like.
Ingredients
Polenta Cake
2/3 cup cornmeal, plus more for the pan
Leaves from 2 sprigs rosemary
1 cup all-purpose flour
2 teaspoons baking powder
3/4 teaspoon salt
5 eggs
2 egg yolks
1/2 cup olive oil
1/2 teaspoon vanilla extract
1 cup (1 stick) unsalted butter, room temperature
1 2/3 cups sugar
Compote
1/2 cup white balsamic vinegar
1 lb strawberries, hulled and roughly chopped
2 tablespoons sugar
Zest of half a lemon
Juice of half a lemon
Whipped Cream
4 oz goat cheese, room temperature
2 cups heavy cream, cold
2 tablespoons minced rosemary, for garnish
Directions
For the cake, preheat the oven to 350°F. Grease a 9-in by 13-in baking pan and dust with cornmeal. Set aside.
In a small food processor, combine the cornmeal and rosemary leaves. Process until the rosemary is finely chopped. Transfer to a mixing bowl and add the flour, baking powder, and salt. Stir to combine.
In a separate bowl, combine the eggs, egg yolks, oil, and vanilla extract, and beat lightly just to combine.
In a mixer fitted with the paddle attachment, combine the butter and sugar. Beat on medium speed, scraping the bowl occasionally, until light and fluffy, about 4 minutes. Add the egg mixture and beat until combined, scraping the bowl as needed.
Remove the bowl from the mixer and add the flour mixture all at once and fold in just until combined. Pour the batter into the prepared pan and spread evenly.
Bake until the cake is golden brown around the edges and a toothpick inserted into the center comes out clean, about 50 minutes. Let cool in the pan for 10 minutes, then invert onto a rack to cool completely.
Meanwhile, for the compote, bring the vinegar to a light boil over medium heat. Boil until the vinegar has reduced by about half, about 5 minutes. Add about 2/3 of the strawberries, the sugar, zest, and juice, and cook, stirring occasionally, until the mixture has thickened and the berries are soft, about 5 minutes. Remove from the heat and add the remaining strawberries, then set aside to cool.
In a mixing bowl fitted with the paddle attachment, combine the goat cheese and about 2 tablespoons of the heavy cream. Beat, scraping the bowl down often and adding heavy cream as needed, until the mixture is very smooth. Switch to the whip attachment, add the remaining cream, and whip until soft peaks form, about 1 minute.
To serve, spoon about 1/4 cup of the compote on a plate. Top with the cake and a dollop of whipped cream. Garnish with rosemary.
Copyright © 2022 The Culinary Institute of America