Cheese may not be a popular first date food, but as far as we're concerned, nothing unites two people better than an interactive shared meal of absolute perfection. And that can really only be raclette.
Half dinner, half get-together, this traditional cheese dish rivals fondue for popularity in its home territories of Switzerland and the northeast of France. From the French verb racler, "to scrape," raclette was originally made by shepherds who would take half a wheel of cheese and prop it in front of the campfire to melt. As the cheese softened, they would scrape it off the wheel and onto pieces of bread.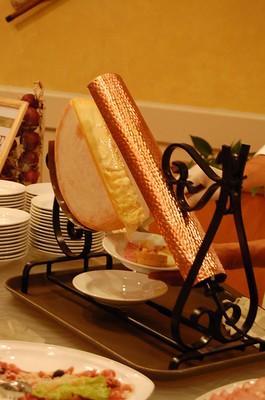 Today, there are two popular ways of preparing the dish. One involves a tool that holds half a wheel of raclette cheese right under a heat lamp. Much like the shepherds' version, the melted cheese is scraped off and served over boiled potatoes with pickled vegetables on the side. At home it's best to use a raclette grill. This device is like an electric griddle, but with space beneath the cooking surface for small individual pans. The cheese goes onto the guest's pan (with fresh vegetables, if desired), under the grill, and is poured over the potatoes when it's melted. These grills are readily available—we've seen them in stores and online.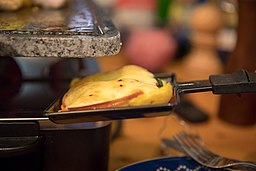 Frankly, the process does result in a certain amount of odeur in the room, but one raclette web site suggests leaving an orange or lemon studded with cloves on the dining table overnight if you feel the need to eliminate the memory.
While both methods of making raclette are very simple, the more involved technique using the grill is described at right. If you want to create conviviality at a dinner party, there's nothing like forcing your guests to make their own dinner. Of course, fondue was big in the 1970s, but raclette is easier to prepare and perhaps a bit more hip. Fondue, if done well, involves making a roux, whisking . . . actual cooking! Raclette involves mostly, well, melting. Sure, potatoes need to be boiled and maybe some vegetables prepared, but the use of the heat lamp or grill leaves most of the work to the appliance. Raclette grills are very easy to find either online or in home goods stores, which makes us wonder, exactly how many Americans are making this dish on a regular basis? However many there are, we think that you should join their ranks.
Ingredients
Makes as many servings as you feel like preparing
1 1/2 cups small, waxy potatoes per person
6 to 7 oz raclette cheese per person
12 slices prosciutto or speck per person (optional)
Sliced raw vegetables, such as mushrooms, sweet peppers, tomatoes and onions (optional) Sweet paprika, as needed
Ground black pepper, as needed
Cornichons as needed
Pickled onions as needed
Directions
Wash the potatoes, leaving the skins on, and boil in well-salted water for 20 to 30 minutes. When they're just done, drain them. Keep the potatoes warm for the duration of the meal by either returning them in the pot with a towel or piece of foil sandwiched between the pot and its lid, or placed in a warmed serving dish that can be covered to keep the potatoes warm.
Cut the cheese into slices about 1/2-inch thick, and just smaller than the grill's pans.
Give each guest access to the sliced cheese, meats, vegetables, and garnishes. Have each guest fill their pan with one slice of cheese and whatever vegetables they choose, then slide the pans under the grill.
Let the cheese get melted and bubbly, but not too hot because the protein and fat can separate. Pour the melted cheese over 1 or 2 boiled potatoes and eat with a couple of cornichons and pickled onions.
Before tucking into the melted cheese and potato conglomeration, set up the pan with fresh cheese and vegetables and put it under the grill so it'll be ready to eat when you finish eating the first batch.
The traditional beverage for raclette is hot tea, which is thought to aid digestion. Wine and beer are just fine, though, with our preference being dry white wine from Savoy or Alsace. Since the dish originated in Switzerland, a Swiss Chasselas-based white wine would be correct in a cultural sense, but is not always a good value or, for that matter, available. If you can find it, give it a shot; otherwise, Pinot Gris from Alsace or Chasselas from Savoy will get the job done.
Pierre Guinoiseau // Flickr // License
Raclette grill image: © Superbass / CC BY-SA 4.0 (via Wikimedia Commons), CC BY-SA 4.0