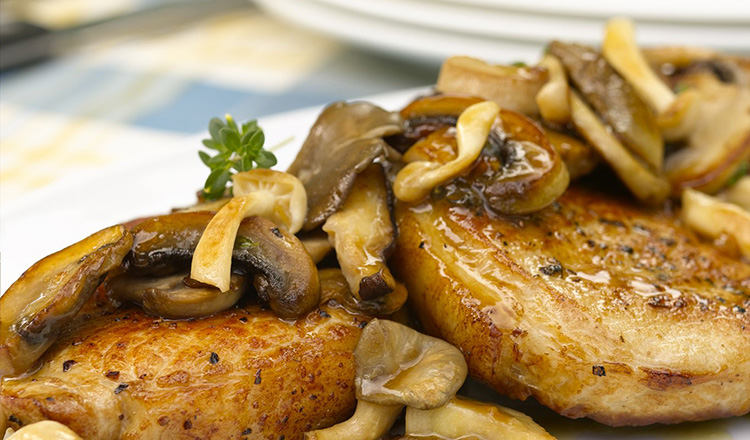 Makes 4 servings
Ingredients
Four 6-oz pork cutlets Kosher salt, as needed Freshly ground black pepper, as needed All-purpose flour, for dredging Olive oil, as needed 1 small shallot, minced 2 cups sliced assorted mushrooms (oyster, cremini, stemmed shiitake, chanterelle, and/or white) 1 teaspoon chopped thyme leaves 1/4 cup dry white wine 1/4 cup… Ingredients
Four 6-oz pork cutlets
Kosher salt, as needed
Freshly ground black pepper, as needed
All-purpose flour, for dredging
Olive oil, as needed
1 small shallot, minced
2 cups sliced assorted mushrooms (oyster, cremini, stemmed shiitake, chanterelle, and/or white)
1 teaspoon chopped thyme leaves
1/4 cup dry white wine
1/4 cup Chicken Broth
2 tablespoons unsalted butter
Directions
Season the pork cutlets with salt and pepper. Dredge in the flour, shaking off any excess.
Pour oil into a large sauté pan to a depth of 1/8 inch and heat over high heat until the surface of the oil shimmers. Add the pork cutlets and pan fry on the first side until deep golden brown, 3 to 4 minutes. Turn the pork cutlets and continue cooking on the second side until the pork is cooked through and the exterior is golden brown, 3 to 4 minutes more. Transfer to a warmed platter and cover to keep warm while completing the ragout.
Pour off all but 2 tablespoons of oil, add the shallot to the pan, and sauté over medium heat until limp, about 1 minute. Increase the heat to high, add the mushrooms and thyme, and sauté until the mushrooms are lightly browned, about 2 minutes.
Add the wine and stir to deglaze the pan, scraping up any browned bits from the pan bottom. Add the broth and any juices released by the pork chops. Simmer over high heat until the liquid has reduced by about half, 6 to 7 minutes. Swirl in the butter to thicken the sauce slightly. Serve the pork chops immediately with the sauce.
Copyright © 2021 The Culinary Institute of America