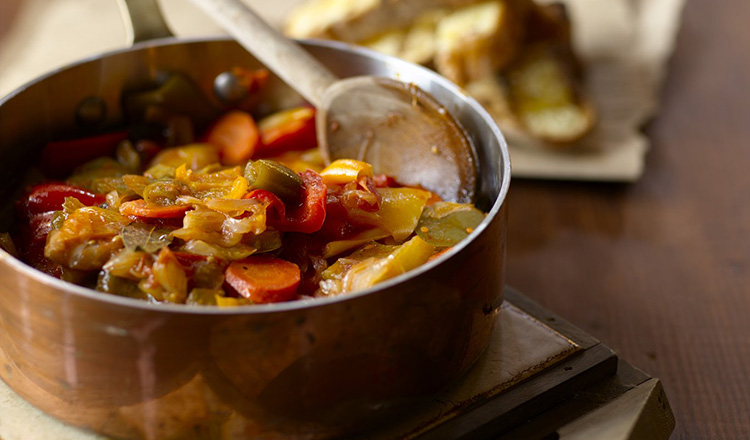 Makes 4 to 6 servings
Ingredients
4 green bell peppers 2 red bell peppers 2 yellow bell peppers 2 1/2 cups extra-virgin olive oil, plus as needed for drizzling 3 red onions, sliced thin 2 carrots, sliced 1/4 inch thick 4 celery stalks, trimmed, sliced 1/4 inch thick 1/2 cup chopped fresh flat-leaf parsley… Ingredients
4 green bell peppers
2 red bell peppers
2 yellow bell peppers
2 1/2 cups extra-virgin olive oil, plus as needed for drizzling
3 red onions, sliced thin
2 carrots, sliced 1/4 inch thick
4 celery stalks, trimmed, sliced 1/4 inch thick
1/2 cup chopped fresh flat-leaf parsley
1 fresh bay leaf
1 cup chopped tomatoes, fresh or canned, peeled and seeded
Kosher salt, as needed
Freshly ground black pepper, as needed
2 tablespoons chopped basil leaves
1 tablespoon chopped oregano leaves
Directions
Wash the peppers, cut them in half, and remove the cores and stems. Cut them into large pieces and set aside.
In an ample pan with a cover, warm the olive oil. Add the onions and sauté over low heat until they are very soft, about 5 minutes. Stir in the carrots and celery and cook slowly until tender, another 5 minutes.
Add the peppers, 1/4 cup of the parsley, and the bay leaf and stir for about 5 minutes to marry the flavors. Add the chopped tomatoes and season with salt and pepper. Cover and continue to cook over very low heat until the peppers are soft, about 45 minutes. Mix in the basil, oregano, and the rest of the parsley. If desired, drizzle with additional olive oil at the table.
Copyright © 2022 The Culinary Institute of America