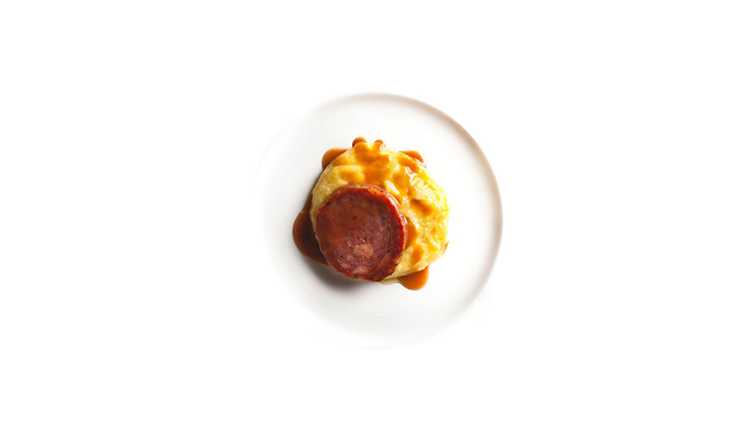 Serves 6 Polenta
Ingredients
2 quarts water 2 tablespoons kosher salt 1/4 cup extra-virgin olive oil 8 oz (1 3/4 cups) cornmeal
Ingredients
6 thick slices sopressata, sliced 1/4-inch thick (about 12 oz) 1/2 cup dry white wine vinegar
Directions
Bring the water to a simmer in a large saucepan… Serves 6
Polenta
Chef's Note: Sopressata is usually much larger in diameter than a regular salami, so one slice per person is usually enough, but if you are using any other type of good-quality soft salami, you may have to increase the number of slices for each serving.
Ingredients
2 quarts water
2 tablespoons kosher salt
1/4 cup extra-virgin olive oil
8 oz (1 3/4 cups) cornmeal
Ingredients
6 thick slices sopressata, sliced 1/4-inch thick (about 12 oz)
1/2 cup dry white wine vinegar
Directions
Bring the water to a simmer in a large saucepan over medium heat. Add the salt and oil, and then slowly add the cornmeal, whisking continuously. Let simmer gently until the polenta is done, stirring frequently with a wooden spoon to make sure the polenta does not stick, 30 to 40 minutes. (The cooking time may vary depending upon the coarseness of your cornmeal.) Remove the polenta from the heat, adjust the seasoning with salt, and keep warm.
Heat a sauté pan over medium-high heat (you will not need any fat in the pan since the sopressata is quite fatty on its own). Add the sopressata to the pan, working in batches to cook it in a single layer. When the fat begins to melt and the sopressata is browned on both sides, remove it from the pan. Drain on paper towels.
Add the vinegar to the fat in the pan and simmer very briefly over medium heat, just long enough to make a thick sauce, about 1 minute. If the sauce appears too greasy, add a few teaspoons of water and mix well to thicken the sauce.
Spoon the hot polenta onto heated plates and top each serving with a slice of the fried sopressata. Pour the pan sauce over the sopressata and polenta and serve at once.
Copyright © 2022 The Culinary Institute of America