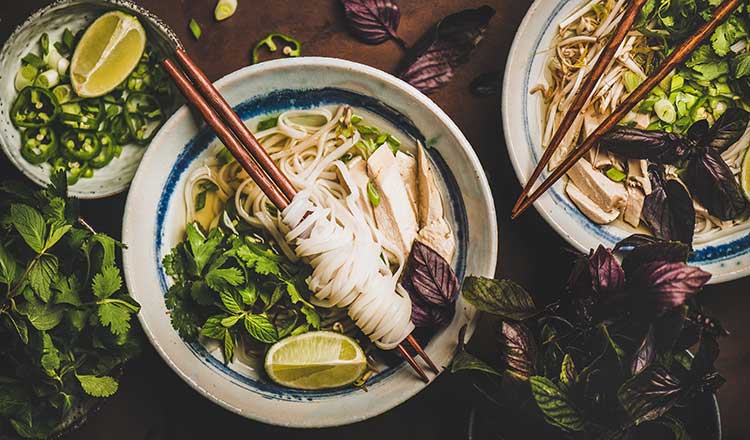 Makes 6 servings
Ingredients
3 lb chicken bones, cut into 3-inch pieces 1 (4-inch) piece ginger 2 yellow onions, peeled and halved 6 star anise, lightly toasted 6 whole cloves, lightly toasted 4 cardamom pods 1 teaspoon fennel seeds 1 cinnamon stick 1 teaspoon black peppercorns 1 whole chicken (about 3 1/2 lb), split… Ingredients
3 lb chicken bones, cut into 3-inch pieces
1 (4-inch) piece ginger
2 yellow onions, peeled and halved
6 star anise, lightly toasted
6 whole cloves, lightly toasted
4 cardamom pods
1 teaspoon fennel seeds
1 cinnamon stick
1 teaspoon black peppercorns
1 whole chicken (about 3 1/2 lb), split in half
1/4 cup fish sauce
2 tablespoons sugar
1 tablespoon salt, or as needed

---

1 lb dried rice stick noodles, 1/16-inch wide
3/4 cup thinly sliced onion
1/3 cup thinly sliced scallions
1/3 cup chopped cilantro

---

5 cups bean sprouts
20 leaves basil
12 saw-leaf herb leaves
3 Thai bird chiles, deseeded and thinly sliced
1 lime, cut into 6 wedges
Fish sauce, to taste
Ground black pepper, to taste
Directions
Rinse the chicken bones and place in a stockpot. Add 2 1/2 gallons of water and bring to a boil.  Skim the surface as necessary.
Meanwhile, cut the ginger in half lengthwise and bruise with the flat side of a knife.  Char the ginger and onions over an open flame or under the broiler, about 3 to 4 minutes and reserve.
Place the star anise, cloves, cardamom pods, fennel seeds, cinnamon, and peppercorns in a cheesecloth or spice bag and set aside.
After the bones have been simmering for one hour, add the chicken halves, return the liquid to a simmer, and skim the surface as necessary.  Add the charred ginger, onions, fish sauce, sugar, and salt.  Continue to simmer until the chicken is just cooked through, about 30 minutes.  Remove the chicken, but not the chicken bones, and set aside to cool.
Add the spice bag to the pot and cook the broth for another hour.  Remove and discard the spice bag.  Strain the stock, discarding the solids; return the liquid to a clean pot.  Adjust the seasoning and keep warm.
Remove the skin from the reserved chicken and discard.  Hand-shred half of the chicken into bite-sized strips and reserve.  (Save the other half for another use.  You don't need much to garnish pho, but you do need a whole chicken to make a good broth.)
To prepare the noodles, soak them in cold water for 30 minutes.  Bring a large pot of water to a boil over high heat. Add the rice sticks and boil until soft but still resilient, 2 to 3 minutes.  Drain and reserve.
Place 1 cup of the cooked noodles into each hot serving bowl. (If noodles are not hot, reheat in a microwave or dip briefly in boiling water.)  Place 2 tablespoons sliced yellow onions and 1/3 cup shredded chicken on top.  Bring the broth back to a rolling boil, then ladle 1 cup into each bowl. Top with scallions and cilantro.
Serve accompanied by a platter of the bean sprouts, fresh herbs, chiles, lime juice, fish sauce, and black pepper to allow guests to garnish their soup as desired.
Copyright © 2022 The Culinary Institute of America