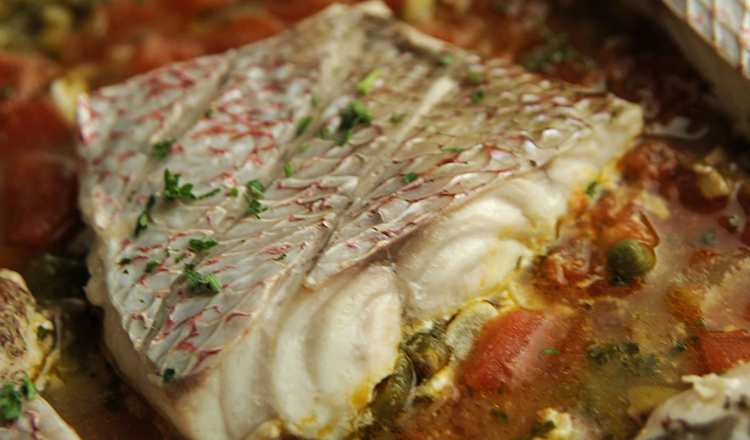 Makes 10 servings
Ingredients
10 red snapper fillets (about 6 oz each) 1 teaspoon kosher salt 1/2 teaspoon freshly ground black pepper 3/4 cup fresh lime juice

Sauce
Ingredients
1/4 cup plus 2 tablespoons olive oil 4 cups minced onion 3 garlic cloves, minced 2 cups peeled, seeded, medium-dice tomatoes 15 green… Makes 10 servings
Sauce
Garnish
Ingredients
10 red snapper fillets (about 6 oz each)
1 teaspoon kosher salt
1/2 teaspoon freshly ground black pepper
3/4 cup fresh lime juice
Ingredients
1/4 cup plus 2 tablespoons olive oil
4 cups minced onion
3 garlic cloves, minced
2 cups peeled, seeded, medium-dice tomatoes
15 green olives, pitted and chopped
1 tablespoon plus 2 teaspoons brined capers, drained and rinsed
5 pickled jalapeños, julienned
3 bay leaves
1 1/2 chopped marjoram or oregano
1 1/2 chopped thyme
4 cups Fish Stock, plus more as needed
Salt, as needed
Freshly ground black pepper, as needed
Ingredients
1/4 cup chopped flat-leaf parsley
1/4 cup brined capers, drained and rinsed
30 to 40 green olives, drained and rinsed
Directions
Cut a shallow crisscross into the skin of all the fillets with a boning knife. Season the fish with the salt and pepper and marinate it in the lime juice, in a covered container in the refrigerator, for at least 1 hour.
Meanwhile, prepare the sauce: Heat 1/4 cup of the oil in a saucepan over medium-high heat. Add the onion and garlic and sauté until they start to turn golden. Add the tomatoes, chopped olives, capers, jalapeños, bay leaves, marjoram or oregano, thyme, and stock. Bring the sauce to a simmer and cook until the tomatoes are soft and the flavors have blended. Adjust the seasoning with salt and pepper, if necessary.
Preheat the oven to 350°F.
Lightly grease a large shallow ovenproof sauté pan with the remaining 2 tablespoons oil. Place the fillets in the pan. Pour the sauce over and around the fish.
Bring the liquid to just under a simmer over medium heat. Place a piece of buttered parchment paper, trimmed to fit inside the pan, over the fish to cover. Transfer the entire pan to the oven.
Poach the fish until cooked through (140°F), 6 to 8 minutes.
Serve immediately with the sauce, garnished with the parsley, capers, and olives.
Copyright © 2022 The Culinary Institute of America