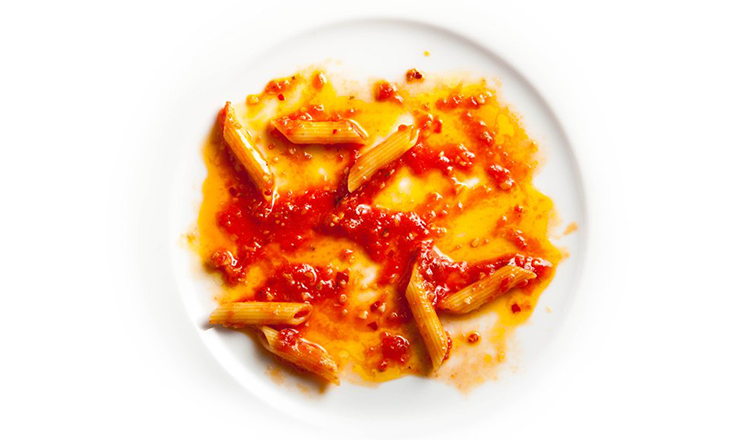 Serves 6 Arrabbiata Sauce
Ingredients
6 tablespoons extra-virgin olive oil 4 small dried red chiles (peperoncini), crushed 3 garlic cloves, minced or thinly sliced 1 can (28 oz) whole San Marzano tomatoes 1 lb dried pennette lisce (not rigate) Kosher salt, as needed
Directions
Heat the oil in a 4-quart Dutch oven… Serves 6
Arrabbiata Sauce
Ingredients
6 tablespoons extra-virgin olive oil
4 small dried red chiles (peperoncini), crushed
3 garlic cloves, minced or thinly sliced
1 can (28 oz) whole San Marzano tomatoes
1 lb dried pennette lisce (not rigate)
Kosher salt, as needed
Directions
Heat the oil in a 4-quart Dutch oven over medium heat. Add the dried chiles and garlic and stir to coat them with the oil. Sauté over low heat, stirring often, until the garlic is just starting to turn color, about 3 minutes. Add the tomatoes with their juices and simmer the sauce, uncovered, until it is very flavorful and the tomatoes are "sweet," 25 to 30 minutes. Use a wooden spoon or a potato masher to break up the tomatoes while the sauce simmers.
Bring a large pot of salted water to a boil over high heat. Add the pennette and stir to submerge and separate the pasta. Cook, uncovered, until just tender (al dente), 8 to 9 minutes (check the cooking time for your pasta).
Drain the pasta in a colander. Shake well to remove any water clinging to the pasta. Add the drained pasta to the arrabbiata sauce and toss them together until the pasta is evenly coated. Serve at once in warmed pasta plates.
Copyright © 2022 The Culinary Institute of America