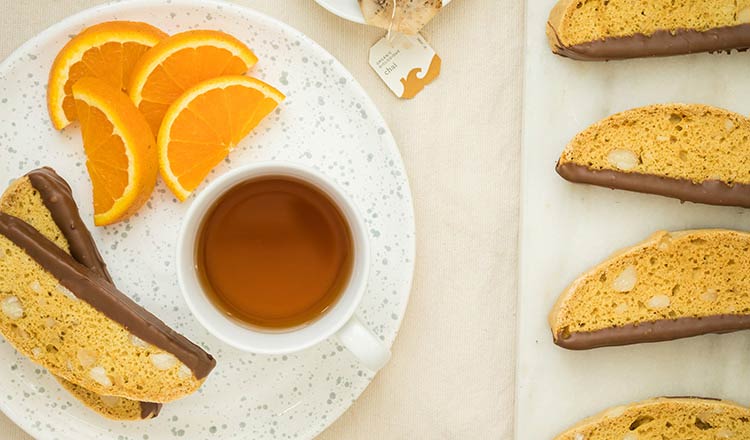 Makes 24 cookies
Ingredients
3 cups bread flour 1 1/2 teaspoons baking soda 5 eggs 1 1/4 cups sugar 3/4 teaspoon kosher salt 1 1/4 cups chopped macadamia nuts 1 1/2 teaspoons orange zest 1/2 cup melted chocolate, for drizzling (optional)
Directions
Linea sheet pan with parchment paper. Sift together the flour… Ingredients
3 cups bread flour
1 1/2 teaspoons baking soda
5 eggs
1 1/4 cups sugar
3/4 teaspoon kosher salt
1 1/4 cups chopped macadamia nuts
1 1/2 teaspoons orange zest
1/2 cup melted chocolate, for drizzling (optional)
Directions
Linea sheet pan with parchment paper.
Sift together the flour and baking soda
Whip the eggs, sugar, salt and orange zest with the whip attachment on high speed until thick and light in color, about 5 minutes. On low speed, mix in the sifted flour mixture until just incorporated. Add the macadamia nuts and blend by hand until evenly combined.
Form the dough into a log 4in/10cm wide by 16in/41cm long and place on the prepared sheet pan
Bake at 300'F/149'C until light golden brown and firm, about 1 hour. Remove the pans from the oven and cool for 10 minutes. Lower the oven temperature to 275'F
Using a serrated knife, cut each strip crosswise into slices 1/2 inch thick. Place on sheet pans and bake, turning the biscotti once halfway through the baking time, until golden brown and crisp, 20 to 25 minutes. Transfer to racks and cool completely. Store in an airtight container.
When completely cool, drizzle or dip with the melted chocolate.
Copyright © 2021 The Culinary Institute of America