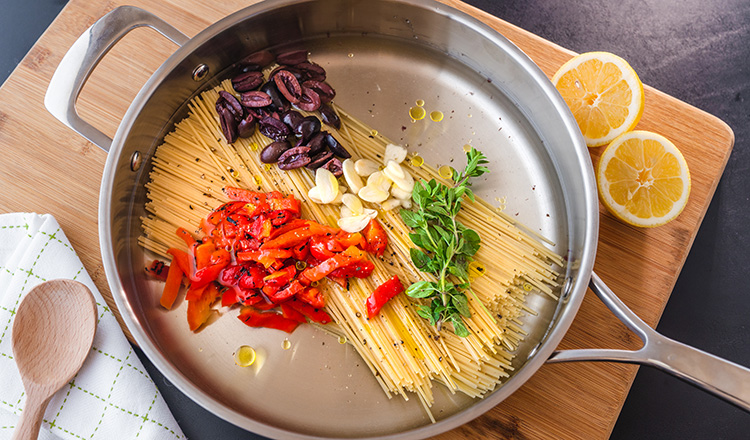 There is no greater joy than a dinner that is truly 15 minutes prep-to-table. Especially on a busy weeknight, but honestly, any night.
Opening a jar of store-bought pasta sauce and boiling a pound of spaghetti is easy, but how about something a little more homemade in just as much (or little) time?
That's where one-pot pastas come into your life. With just the right amount of water and oil, you can cook your dry pasta, mix-ins, and sauce all at the same time in the same pot. The starch from the pasta mixes with the water to thicken it just enough to coat your pasta and keep it from feeling dry.
We whipped up a Mediterranean-style version, with olives, oregano, roasted peppers, and feta added in at the end. The finished product is a little lemony, a little creamy, and a little too good to be so easy.
Of course, using the same ratios, you can make tons of variations. Here are a few of our favorite ideas, all using 12 oz pasta (any shape!), 4 1/2 cups water, and 2 tablespoons of olive oil, to start:
Halved cherry tomatoes + sliced garlic + torn basil + dollops of ricotta, to serve
Marinated artichokes + lemon juice and zest + sliced shallots + dried oregano
Diced tomatoes + cream + sliced garlic + peas + grated Parmesan, to serve
Sundried tomatoes + sliced garlic + basil + crumbled Ricotta Salata, to serve
Scallions + chili garlic sauce + soy sauce + minced ginger + chopped cashews, to serve
We could do this all day, but you get the picture! Think of your favorite pasta dish, and work backward to experiment with your own one-pot creations. And luckily, even mediocre pasta is better than no pasta, so a failed experiment is still dinner!