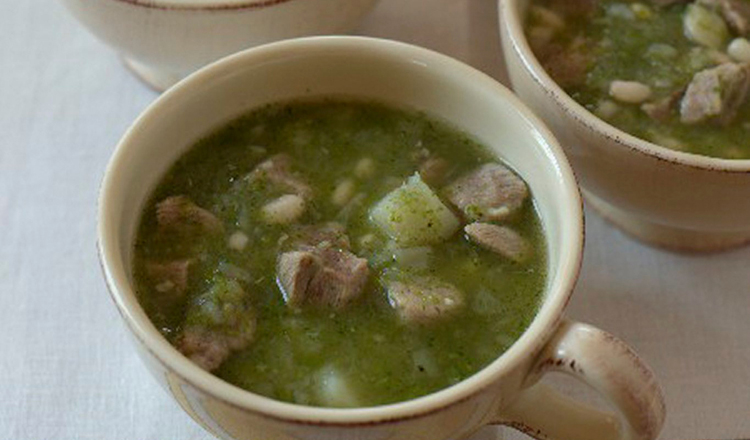 Makes 5 servings
Ingredients
1 cup dry white beans, soaked in water overnight 1 3/4 lb pork shoulder, cut into large dice 1 quart chicken stock 12 oz Anaheim peppers 2 tablespoons vegetable oil 1 1/2 cups small-dice onion 2 tablespoon minced garlic 3 cups medium-dice russet potatoes 1 tablespoon seeded and chopped jalapeños… Ingredients
1 cup dry white beans, soaked in water overnight
1 3/4 lb pork shoulder, cut into large dice
1 quart chicken stock
12 oz Anaheim peppers
2 tablespoons vegetable oil
1 1/2 cups small-dice onion
2 tablespoon minced garlic
3 cups medium-dice russet potatoes
1 tablespoon seeded and chopped jalapeños
1 cup chopped cilantro, plus 1/4 cup cilantro leaves
2 teaspoons kosher salt
Directions
Drain the soaked beans, transfer to a small pot, and cover with water. Simmer over medium low heat until completely tender, about 1 hour. Add more water throughout the cooking process, if necessary. Reserve the beans in their cooking liquid.

Place the pork in a large pot and add the stock. Simmer over low heat until the pork is tender, about 2 hours.

Meanwhile, grill or broil the Anaheim peppers until the skins blacken and the flesh is tender, 6 to 8 minutes. Place the peppers in a bowl and cover with plastic wrap to steam. Peel the peppers and remove the seeds. Reserve.

Heat the oil in a medium sauté pan over medium-high heat. Add the onion and garlic and cook until the onions are translucent, about 5 minutes. Add the onions and garlic to the pork.

Add the potatoes and beans to the pork and simmer until the potatoes are tender, about 10 minutes.

Place the roasted Anaheim peppers, the jalapeños, and chopped cilantro in a blender and purée until completely smooth. Add some of the cooking liquid from the stew to facilitate puréeing, if needed. Strain the mixture through a large-holed strainer, if desired.

Just before serving, add the purée to the stew, simmer for 1 to 2 minutes, and add the salt. Serve immediately, garnished with the cilantro leaves.
Copyright © 2022 The Culinary Institute of America