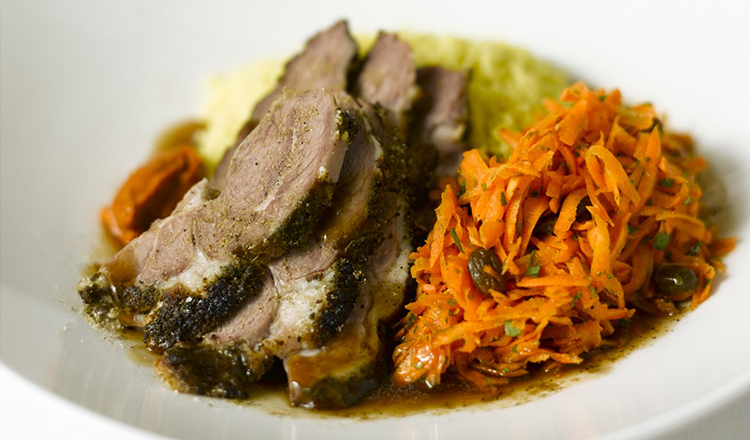 Serves 8
Ingredients
2 lb carrots (peeled and thinly sliced) 2 garlic cloves 4 tablespoon olive oil Juice of 1 lemon 1 tablespoon ground cumin Small pinch of cayenne pepper 1 teaspoon minced cilantro 1 teaspoon minced parsley 2 onions, finely chopped 1 cup chopped dates
Directions
In a medium saucepan, combine… Ingredients
2 lb carrots (peeled and thinly sliced)
2 garlic cloves
4 tablespoon olive oil
Juice of 1 lemon
1 tablespoon ground cumin
Small pinch of cayenne pepper
1 teaspoon minced cilantro
1 teaspoon minced parsley
2 onions, finely chopped
1 cup chopped dates
Directions
In a medium saucepan, combine the carrots and garlic. Add water to cover by 1 or 2 inches. Bring to a simmer and cook until tender, about 5 minutes. Using a slotted spoon, transfer the carrots to a bowl.
Cook the cooking liquid over medium heat to reduce to 1/2 cup. Whisk in 2 tablespoons of the olive oil and the lemon juice to the reduced cooking liquid. Pour the mixture over the carrots. Add the cumin, cayenne, cilantro, and parsley. Set aside.
Heat the remaining olive oil in a medium saucepan over medium heat. Add the onions and sauté until translucent, about 5 minutes. Add the dates and cook until the dates are softened. Toss the onion and date mixture with the carrots. Let cool. Cover and refrigerate for 1 to 2 hours.
Copyright © 2022 The Culinary Institute of America