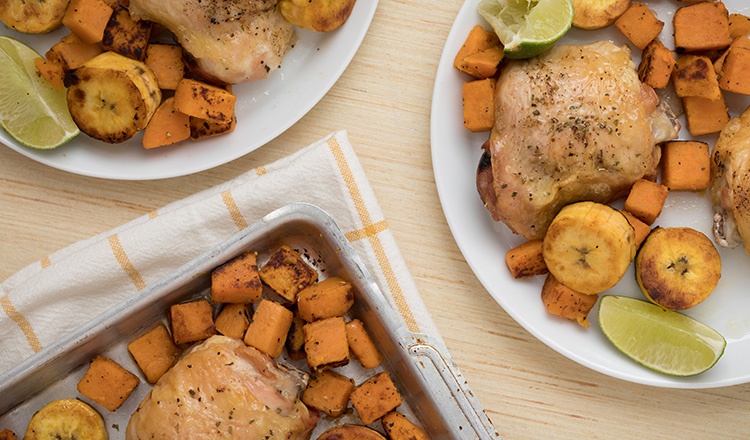 Makes 6 servings
Ingredients
1/4 cup freshly squeezed orange juice 1/4 cup freshly squeezed lime juice 1/3 cup plus 1 tablespoon extra-virgin olive oil, divided 5 garlic cloves, mince 1 teaspoon ground cumin 1 teaspoon dried oregano 1 teaspoon kosher salt, plus more as needed 1/2 teaspoon freshly ground black pepper, plus more as… Ingredients
1/4 cup freshly squeezed orange juice
1/4 cup freshly squeezed lime juice
1/3 cup plus 1 tablespoon extra-virgin olive oil, divided
5 garlic cloves, mince
1 teaspoon ground cumin
1 teaspoon dried oregano
1 teaspoon kosher salt, plus more as needed
1/2 teaspoon freshly ground black pepper, plus more as needed
6 bone-in chicken thighs
2 sweet potatoes, chopped
2 plantains, peeled and sliced into 1-inch rounds
Directions
In a bowl, combine the orange juice, lime juice, 1/3 cup of the oil, garlic, cumin, oregano, salt, and pepper. Add the chicken and turn to coat. Cover and refrigerate for 30 minutes.
Preheat the oven to 400°F. Transfer the chicken to one half of a lightly oiled sheet pan. On the other side, arrange the sweet potatoes and plantain slices in one layer and drizzle with the remaining 1 tablespoon of olive oil. Season with salt and pepper.
Roast until the chicken is cooked through and the vegetables are tender and browned around the edges, about 45 minutes. Turn the vegetables and plantains once halfway through cooking.
Stir the vegetables on the pan before serving to coat with any residual cooking liquid.
Copyright © 2022 The Culinary Institute of America