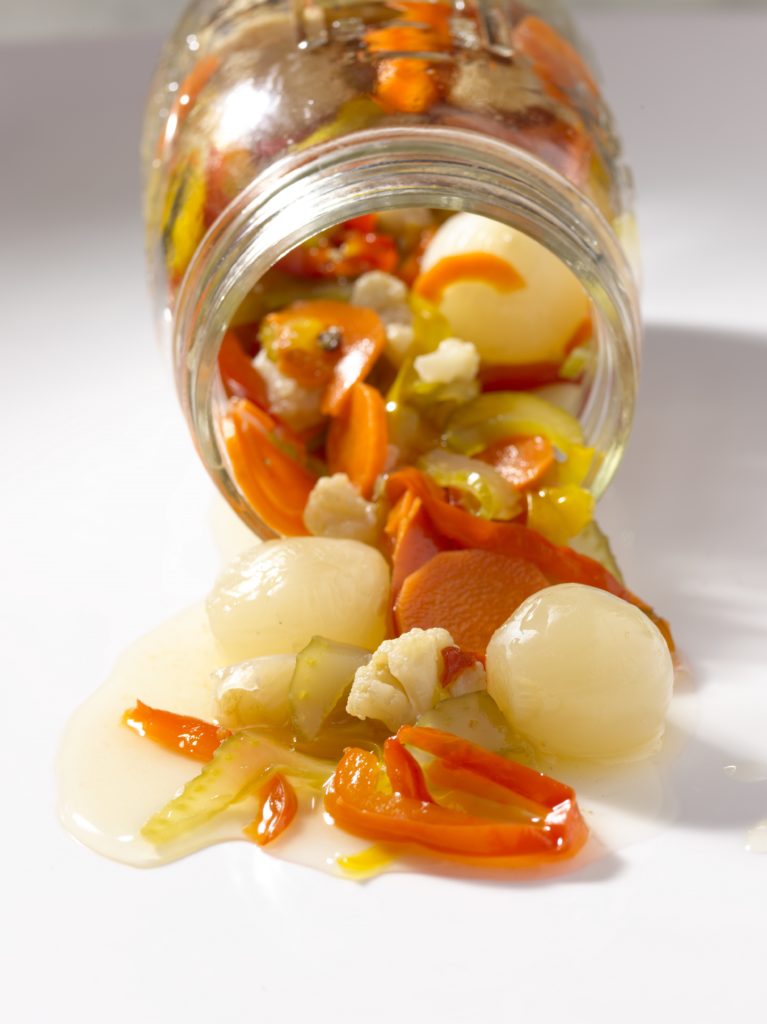 Starting a new cooking routine doesn't have to be daunting, and accepting your limitations for time, space, budget, and skill is the first step to creating a realistic strategy.
At the CIA, we think food is fun, so we make a lot of our ingredients at home, but that doesn't mean the grocery store isn't full of time-saving ingredients that deserve a spot in your pantry, fridge, or freezer (that's a big one!). Here are a few of our favorite go-to convenience buys and how you might use them.
Frozen vegetables. Frozen veggies are a great buy for quick stir-fries, simple side dishes, or additions to soups, stews, and salads. They are already trimmed and are generally flash cooked and frozen close to the source at the peak of their freshness. Look for the plain varieties, meaning no sauces or added salt. These are generally the best choice, and we prefer them over canned, which tend to include lots of added sodium and a less pleasing texture.


Pickled veggies. Beyond your favorite kosher dill, pickled vegetables, like peppers, sauerkraut, and olives are an easy way to add a little bit of salty brightness to sandwiches, grain salads (and green salads!), pastas, and even soups and stews. A little bit goes a long way, and they lend lots of flavor without tons of added calories.


Canned Beans. There's no shame in the canned bean game, especially if it means quick and easy lunches and dinners. Look for no-salt-added varieties, and drain and rinse the beans before you use them. If you have leftovers from a can, freeze them in a small zip-top bag to use in another recipe.


Pizza Dough. Pizza is a great last-minute dinner, since you can put basically anything on a tasty dough—including last night's leftovers!—and cook it in 10 minutes. Look in your grocery store for frozen or fresh pizza dough (not the kind in the tube) or ask your favorite pizza place to sell you a pound or two. Leave it in the freezer and take it out in the morning before work.


Condiments. Of course we're talking about the classics: ketchup, mustard, mayonnaise. But scan your grocery store and specialty markets for interesting condiments that grab your attention. Truffle mustards, Indian-style chutneys, or spicy salsas are all easy ways to marinate meat, add flavor to vinaigrettes, or jazz up simple scrambled eggs or roasted veggies.


Spice Blends. Pick up a few pre-mixed spice blends, like curry blends, Cajun mixes, or Mediterranean blends. Add a big pinch to cooking water for quinoa or grains, stir into your salad dressings, or sprinkle on your hummus to change the flavor profiles from week to week so you don't get bored. Look for salt-free varieties.


Frozen Shrimp. The fact is that most of the shrimp and fish you buy has been frozen at some point in its journey, so buying it frozen isn't any different. We like keeping shrimp on hand because it's easy to defrost and super quick to cook. You can toss it in any lunch salad or noodle bowl, sauté or grill it to eat with roasted veggies, or roll it in coconut and bake it for a crunchy treat.