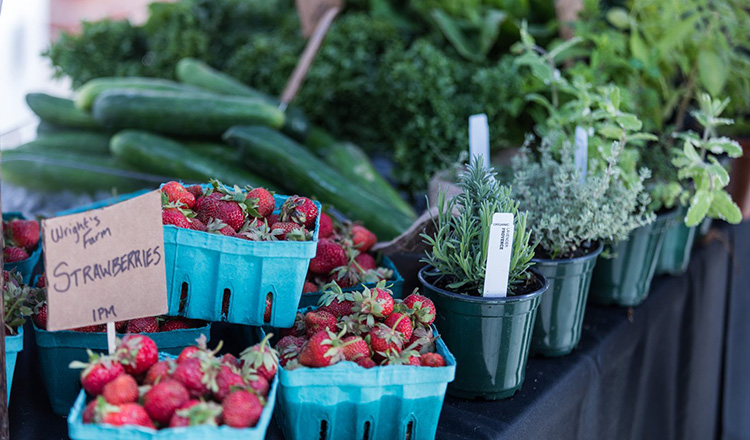 It's spring, and we couldn't be more excited! It's been a snowy winter on our Hyde Park, NY campus, and we have been eager to dig out of the mess to find the sun.
When the calendar turns in our favor, there is only one thing on our minds: farm stands. Here in the Hudson Valley of New York, spring means things like fresh asparagus and rhubarb, but depending on where you live, you may have already enjoyed strawberries!
We love farm stands for so many reasons, but we can boil it down to our desire to eat locally. Local food not only gives us the freshest produce and ingredients (so much grocery store produce sits in a warehouse and then a truck for weeks before it gets to you), but it also connects us to our local community and economy, which helps everyone.
We hear, though, that farmers' markets and farm stands aren't how a lot of our foodie friends prefer to shop because they're just too expensive.
It does seem counter intuitive that cutting out the middle man should make your groceries more expensive, but our local farmers are growing on a smaller scale with lots of overhead (especially organic farmers). So, yes, sometimes those costs get passed on to you. But there are also ways to save money at the farm stand.
Directions
Get Out of Town! If you live in a big city, you may be a victim of farm stand inflation. One of the best parts of urban living is meandering down to that big farmers' market where you have lots of options at your fingertips. But in reality, those markets are a lot of work for farmers, and that means marked-up prices. Depending on where you live, those same farmers may have their own stands out near their farms—so take a day trip when your favorite item is at its peak and go right to the source. (At our San Antonio campus, we take the drive for peaches!) Just a word to the wise: if it's peach season, pack some paper towels, because eating peaches while you drive is messy business.
Beauty is in the Eye of the Beholder. Many farmers will offer the sale of "seconds," which are fruits or veggies that are marked down in price because they may be a bit less beautiful or slightly bruised. Seconds can be half, even a quarter of the price, and they are especially good for recipes where the ingredient will be cooked, like mashed potatoes, peach pie, or applesauce. If you don't see seconds out and marked, just ask, and we bet you'll find a good deal.
Embrace the Unusual. Keep an eye out for deals on products that are less desirable for silly reasons. When we're talking tomatoes, bright red is what everyone is looking for—but a yellow plum tomato is just as delicious and can often be half the price. Don't be afraid to cook with less conventional ingredients, because yellow tomatoes still make marinara sauce!
Go Big, or Go Home! Also remember that buying in bulk is for more than just Costco. A bushel of tomatoes for $40 may seem like a splurge, but once you do the mental math, you'll realize what you save on prepared tomato products for a whole year—not to mention the quality. Bulk sales are especially common near the end of the growing season, when farmers are looking to unload any excess crops. If you're patient, that $40 bushel of tomatoes will inevitably get less expensive as the season goes on.
And while this isn't a cost-saving tip, never be afraid to ask questions. Farm stands are for the curious and the adventurous, so don't feel the pressure to know everything. If you've never seen a product before, it's okay to ask, "What is this and how can I use it?"