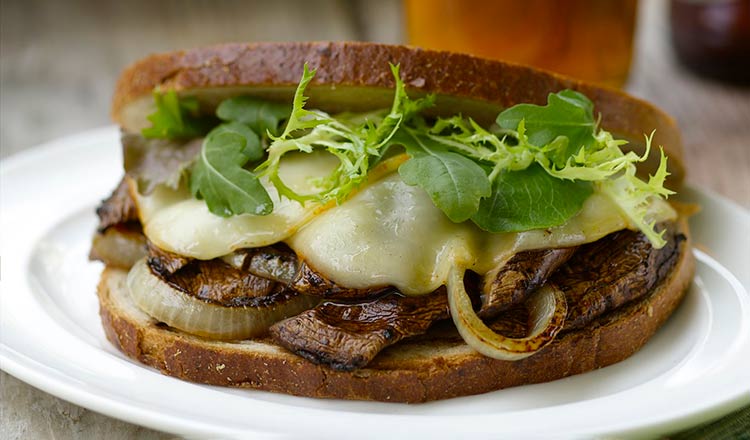 Makes 8 servings Portobello mushrooms a dense, meaty texture when cooked. They can be prepared for this recipe a day ahead; cool the broiled mushroom caps completely and refrigerate until needed. Slice the mushrooms and allow them to return to room temperature before assembling the sandwiches. Use dry marsala or dry sherry in place of… Makes 8 servings
Portobello mushrooms a dense, meaty texture when cooked. They can be prepared for this recipe a day ahead; cool the broiled mushroom caps completely and refrigerate until needed. Slice the mushrooms and allow them to return to room temperature before assembling the sandwiches. Use dry marsala or dry sherry in place of the madeira, if that's what you have on hand.
Ingredients
8 portobello mushrooms
1/4 cup dry Madeira
3 tablespoons olive oil
2 garlic cloves, bruised
1/2 teaspoon dried oregano
2 teaspoons salt
1 teaspoon black pepper
8 onion slices
16 slices rye or pumpernickel bread
8 slices Muenster or Havarti
4 cups mixed baby greens
Directions
Preheat the broiler and place the oven rack in the upper third of the oven.
Remove the stems from the mushrooms and, using a sharp paring knife, cut away the gills. Combine the Madeira, 2 tablespoons of the olive oil, the garlic cloves, oregano, 1 teaspoon of salt, and 1/2 teaspoon of pepper in a large bowl; add the mushrooms and toss to coat. Set aside for 10 minutes to marinate.
Heat the remaining tablespoon of olive oil in a sauté pan set over medium-high heat. Add the onions and sauté until soft and translucent, about 5 to 6 minutes. Season with the remaining 1 teaspoon of salt and 1/2 teaspoon of pepper.
Place the mushrooms and onion slices on a baking sheet, brush with the marinade, and broil until browned and tender, about 4 minutes on each side. When cool enough to handle, thinly slice each mushroom. Fill the sandwich with slices of onion and mushroom and top with a slice of cheese.
Place the bottom half of each sandwich with the mushroom, onion, and cheese on a baking pan and place under the broiler until the cheese is melted, about 2 minutes.
Top each sandwich with the greens and a second slice of bread.
Copyright © 2022 The Culinary Institute of America