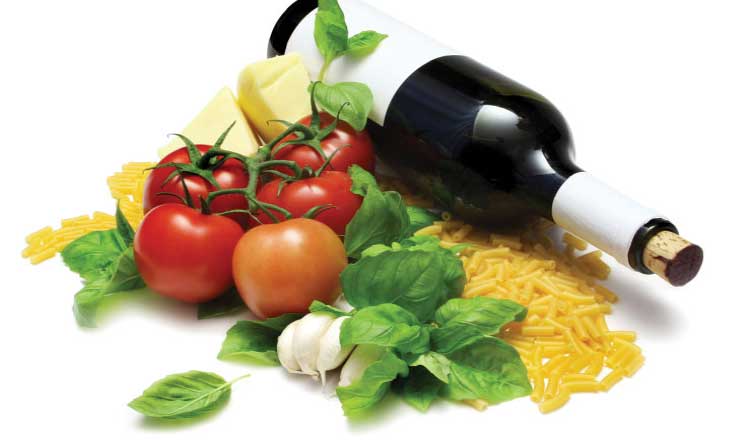 Article by: By Traci Dutton
Do meatless Mondays have to be wine-less Mondays? No reason to think that! Let's not forget that a little wine, consumed in moderation, can be part of a healthy and appealing diet based on grains, fruits and vegetables, beans, and healthy fats, including dairy.
But with so many classic food and wine pairings based on the animal protein "centerpiece" of the dish—red wine with meat, white wine with fish—what are the principles surrounding the successful pairing of wine with plant-based foods?
Employ tried-and-true principles
Successfully pairing wines with plant-based dishes is actually very easy because the same food and wine pairing principles apply:
Acid loves Acid,
Oaky and Smoky,
Sweet complements Sweet,
Tannin moderates Bitterness, and
Acid helps cut through Fatty textures.
Also remember, in the world of "adjusters"—items in the pantry you can add to dishes to build food flavors towards a better match—there are almost no meat or fish products to be found. Salt, citrus juice, vinegar, chilies, herbs, good oils, and sweeteners all contribute to the art of bringing your favorite dishes closer to your favorite wines. Strong umami can be found outside of the usual meat stocks and Thai fish or Worchester sauces (both of which have a little fish in them). Try using top-quality brewed soy sauce, miso, sea vegetables, mushroom powder, tomato paste, balsamic vinegar, caramelized onions, and slightly salty vegetable stocks made from a wide variety of vegetables to up the ante on the flavors of your vegetarian dishes and increase their compatibility with all types of wines.
Start with the wines you enjoy
It's always important to remember to drink the wines you enjoy. Regardless of your preferences, there are delicious marriages to be made:
With slightly sweet, aromatic grape varieties such as Riesling, Gewürztraminer, and Muscat, try incorporating sweetness and fresh flavors into the dishes. Grain salads with fruit, miso-marinated tofu, beans baked with maple and brown sugar, or vegetable salads with sugary treats such as peas, beets, and ripe tomatoes are all going to lead you in the direction of wanting a little sweetness in your wine.
Put some mango chutney on your Indian dal and reach for an off-dry, spicy white.
Even the trendy new sweet red wine blends can fit in with farro, blackberry, and mint salad or Chinese stir fries with hoisin sauce—moo shu portobellos, anyone?
Off-dry and low-alcohol wines are also the way to go with hot and spicy foods, so those zucchini enchiladas or Thai noodles with spicy peanut sauce don't need to go unmatched. Alcohol accentuates the heat from the chilies in foods, so it's good to consider the level in your wine when choosing.
Choose the right white
Some of the most versatile white wines to have in the pantry are young, fresh, high-acid and low- or no-oak varieties such as Sauvignon Blanc, Pinot Grigio, un-oaked Chardonnay, and Grüner Veltliner. With this style of white, our "Acid loves Acid" rule really comes into play. Think of kimchi and other lightly pickled vegetables, fresh green salads with citrus vinaigrette, and, if your diet allows dairy, fresh goat cheese with its wonderful tangy notes. Brightly flavored Asian sauces like nuoc cham (substitute a little soy sauce for the fish sauce) or herb-based condiments like salsa verde or chimichurri that you could drizzle over steamed vegetables just cry out for wines of this style.
Further along the spectrum, white wines that are richly textured and have prominent oaky flavors, with California Chardonnay being one of the best examples, are the natural flavor kin for foods that are nutty, such as toasted whole grains as well as nuts and nut butters, of course. They also work well with dishes that are well-spiced; think baking spices such as nutmeg, clove, and cinnamon, plus warm Indian spices like toasted coriander, black cardamom, and cumin. The spice elements from the oak in the wine provide complementary characteristics. Also consider adding elements to your dishes that are smoked, roasted, or caramelized, such as smoked peppers, paprika, roasted vegetables, and, again if the diet allows, smoked cheeses like Gouda or mozzarella. All of these flavors are in tune with the toasted notes in oaky wines. Finally, think of texture, too, with richer wines. Waxy potatoes or creamy butter beans almost mimic the fatty texture of some meats and a fuller-bodied wine is almost a requirement.
If reds are your pleasure
Moving into red wines, one might think there's a little more challenge, but there are many harmonious moments if you generally steer away from very tannic wines. Starting with lighter-bodied reds such as Pinot Noir, some Cabernet Franc, and simpler Sangiovese-based wines such as Chianti, the earthy components of these wines have many friends in our plant-based culinary world. Among the most exciting pairings with these wines is anything with mushrooms or truffles, but root vegetables, brown and black legumes, mustard vinaigrettes, and earthy cheeses made with sheep's milk can all feature prominently, too.
For medium-bodied and fruity reds like Malbec or Barbera, you can begin to roast and grill your dishes. Always remember to incorporate more robust flavors, including the spice box, lots of woody herbs, and plenty of sea salt and good olive oil. Dishes with tomato sauces need the extra "oomph" that these types of wines deliver, and for an epic performance of wine pairing complexity and nirvana, top sweet potatoes or sweet squash with mole sauce and serve with your favorite California Zinfandel. You won't miss the meat for a second! Think of hearty legumes like kidney beans, adzuki beans, or red lentils for stews and soups to partner with these wines.
Just a note for the lovers of robust, tannic reds: You can still drink these, but choose carefully or the wines may overpower the flavor and texture of your foods. Look for recipes that incorporate bitter elements, such as certain types of greens, radicchio, black olives, and eggplant, and don't be afraid to grill, just as you would a steak. Sprinkling olive oil and top-quality Parmesan cheese never hurts either, as the fat, salt, and full flavor can stand up to very full-bodied, assertive wines such as Cabernet Sauvignon and big-style Syrah or Petite Sirah.
Bring it home
So the next time you find yourself overthinking the selection at the natural foods market or the organic produce stand, rest assured that by knowing a few basic pairing principles and staying true to what you enjoy, bringing wine to the table can be all about health, wellness, and pleasure.
Traci Dutton is the manager of public wine and beverage studies at the CIA at Copia.