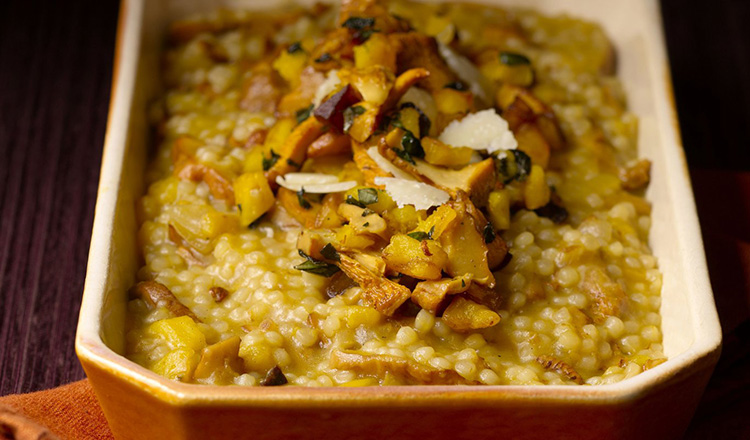 Makes 5 servings Vegetables
Ingredients
2 shallots, finely chopped 1/4 cup olive oil 2 cups chanterelle mushrooms, washed, dried, and diced Kosher salt, to taste Freshly ground black pepper to taste 2 cups peeled and diced fresh pumpkin or other hard-skinned squash

Couscous Risotto
Ingredients
1 tablespoon extra-virgin olive oil 1 shallot,… Makes 5 servings
Vegetables
Couscous Risotto
Ingredients
2 shallots, finely chopped
1/4 cup olive oil
2 cups chanterelle mushrooms, washed, dried, and diced
Kosher salt, to taste
Freshly ground black pepper to taste
2 cups peeled and diced fresh pumpkin or other hard-skinned squash
Ingredients
1 tablespoon extra-virgin olive oil
1 shallot, finely chopped
2 cups Israeli couscous
1 quart vegetable broth
6 sage leaves, finely chopped
1 thyme sprig, finely chopped
1 tablespoon kosher salt
Freshly ground black pepper, to taste
1/4 cup shaved Parmigiano-Reggiano (optional)
Directions
To prepare the vegetables: Preheat the oven to 350°F.
In a large sauté pan, sauté 1 of the shallots in 2 tablespoons of the olive oil over medium heat until translucent. Add the mushrooms and cook until they are caramelized, 8 to 10 minutes. Season with salt and pepper.
On a sheet pan, toss together the remaining shallot, the remaining olive oil, and the diced pumpkin and roast in the oven until caramelized and tender, about 15 minutes.
To make the couscous: Heat the oil in a small sauce pot over moderate heat, add the shallot, and cook until aromatic, 1 to 2 minutes.
Add the couscous and cook gently for a few minutes until it is "parched" and smells lightly toasted. (Parching is a method that makes the product absorb the liquid more easily.) Add the broth in small additions and stir until it has evaporated and the couscous looks a bit dry. Turn off the heat.
Stir in the pumpkin, mushrooms, sage, and thyme. Just before serving, season with salt and pepper. Serve the cheese on the side, if using.
Copyright © 2022 The Culinary Institute of America