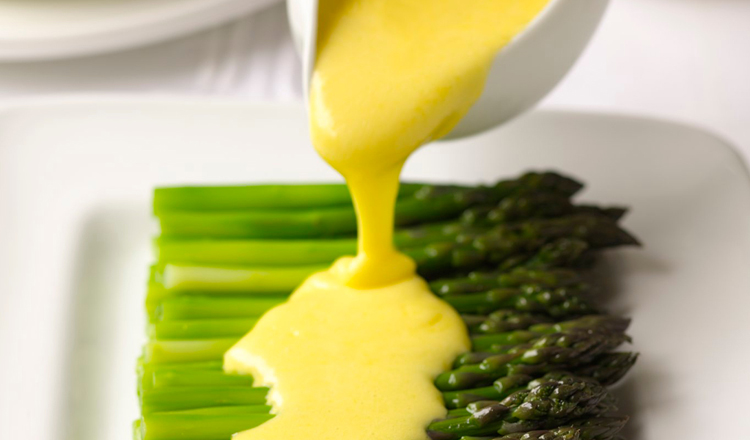 Makes 1 1/2 cups sauce
Ingredients
3 tablespoons white wine vinegar or cider vinegar 1/2 teaspoon cracked black peppercorns 3 tablespoons water, plus more as needed 3 egg yolks, lightly beaten 1 cup (2 sticks) unsalted butter, melted and kept warm 1/2 tablespoon fresh lemon juice, plus more as needed Kosher salt, as needed… Ingredients
3 tablespoons white wine vinegar or cider vinegar
1/2 teaspoon cracked black peppercorns
3 tablespoons water, plus more as needed
3 egg yolks, lightly beaten
1 cup (2 sticks) unsalted butter, melted and kept warm
1/2 tablespoon fresh lemon juice, plus more as needed
Kosher salt, as needed
Ground white pepper, as needed
Pinch cayenne pepper (optional)
Directions
In a small saucepan, heat the vinegar and peppercorns over medium heat. Simmer until nearly dry, 1 to 2 minutes. Add the water to a medium bowl. Strain the vinegar-peppercorn mixture into the bowl; discard the peppercorns.

Whisk the egg yolks into the mixture and set the bowl over a pot of barely simmering water. Cook, whisking constantly, until the yolks have tripled in volume and fall in ribbons from the whisk when it is lifted, about 4 minutes.

Remove the bowl from the heat and set it on a damp towel to keep the bowl from slipping on the work surface. Gradually ladle in the warm, melted butter in a thin stream, whisking constantly. As the butter is blended into the yolks, the sauce will thicken and emulsify. If it becomes too thick, add a little water or lemon juice to loosen the yolks enough to absorb the remaining butter.

Add the lemon juice, salt, pepper, and cayenne, if using. Taste, and adjust the seasoning as needed.

Serve the sauce within 2 hours. If not using immediately, keep the sauce warm over a pot of barely simmering water or in an insulated container.
Copyright © 2022 The Culinary Institute of America