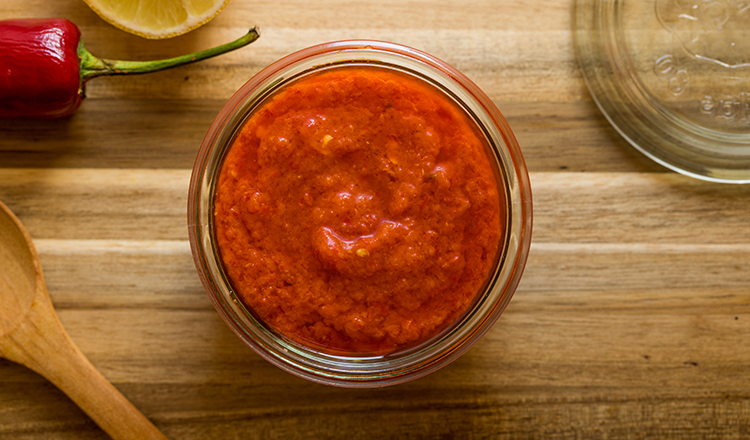 Makes about 1 1/2 cups
Ingredients
1 1/4 lb fresh red chiles, preferably Fresnos 1 small red dried hot chile 1 oz sun-dried tomatoes (about 1/3 cup) 1 garlic clove, crushed to a paste with a pinch of salt 1/2 teaspoon ground turmeric 1/4 teaspoon ground coriander 1/4 teaspoon ground cumin 1/4 teaspoon ground… Ingredients
1 1/4 lb fresh red chiles, preferably Fresnos
1 small red dried hot chile
1 oz sun-dried tomatoes (about 1/3 cup)
1 garlic clove, crushed to a paste with a pinch of salt
1/2 teaspoon ground turmeric
1/4 teaspoon ground coriander
1/4 teaspoon ground cumin
1/4 teaspoon ground caraway
1 1/2 teaspoons preserved lemon paste or freshly squeezed lemon juice
Extra-virgin olive oil, as needed
Directions
Seed and stem the fresh chiles. Toast the dried chile over low heat in a small saucepan until aromatic, about 1 minute.
In a small bowl, rehydrate the sun-dried tomatoes by covering them with hot water. Add the dried chile and steep for 15 minutes. Remove the chile from the water and remove the seeds and stem. Drain the sun-dried tomatoes and reserve the water.
Add the fresh chiles, dried chile, sun-dried tomatoes, garlic, turmeric, coriander, cumin, caraway, and lemon juice to a blender and blend until smooth, adding the tomato soaking water, as needed, to achieve a smooth consistency.
Adjust the seasoning with additional lemon juice and spices, if needed. Lastly add the olive oil and blend to achieve a paste-like consistency.
Copyright © 2022 The Culinary Institute of America