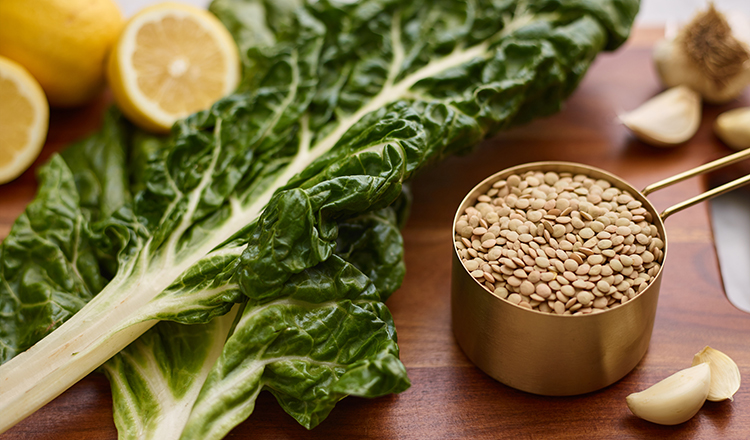 Makes 6 to 8 servings
Ingredients
1 lb dried green lentils (lentilles du Puy) 3 tablespoons finely chopped garlic 1/2 cup extra-virgin olive oil 3/4 cup chopped cilantro Kosher salt, to taste 10 large Swiss chard leaves, stemmed and cut into chiffonade (see Chef's Note) 2 tablespoons freshly squeezed lemon juice 1/4 cup pomegranate… Makes 6 to 8 servings Chef's Note: To cut leaves into chiffonade, strip the leaves off their stems. Stack the leaves, roll up, and cut crosswise into thin ribbons.
Ingredients
1 lb dried green lentils (lentilles du Puy)
3 tablespoons finely chopped garlic
1/2 cup extra-virgin olive oil
3/4 cup chopped cilantro
Kosher salt, to taste
10 large Swiss chard leaves, stemmed and cut into chiffonade (see Chef's Note)
2 tablespoons freshly squeezed lemon juice
1/4 cup pomegranate molasses
Directions
Rinse the lentils.
In a medium sauce pot, sweat the garlic in 2 tablespoons of the olive oil over medium heat. Add the lentils and stir to coat with the olive oil. Toast the lentils briefly and add the cilantro. Add enough water to cover the lentils by 2 inches and season the water with salt.
Bring the water to a boil, reduce the heat to establish a simmer, and cook the lentils until tender, 20 to 25 minutes. Remove the pot from the heat and drain off any excess liquid. Reserve and keep warm.
Meanwhile, prepare the Swiss chard. Heat 2 tablespoons of the olive oil in a large sauté pan over medium-high heat. Add the Swiss chard and cook until the leaves have wilted. Reserve until needed.
Add the chard, lemon juice, and pomegranate molasses to the drained, reserved lentils. Cover and keep warm until ready to serve.
Just prior to serving, taste and adjust the seasoning and drizzle with the remaining 1/4 cup olive oil.
Copyright © 2021 The Culinary Institute of America