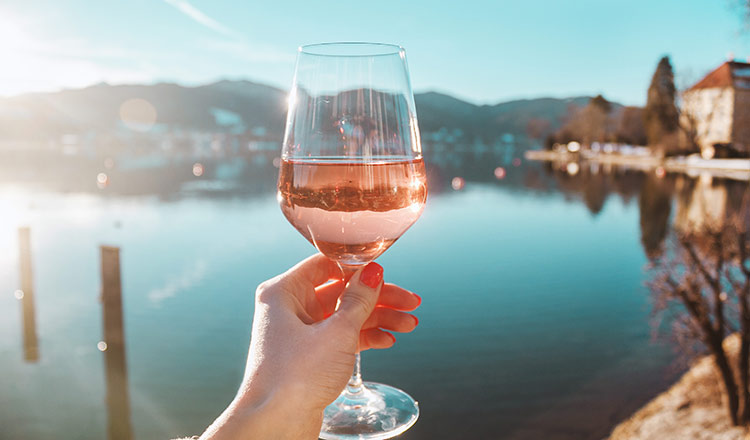 It may seem like rosé has become extra trendy in the last few years, but come summertime along the coast of France (and, well, all over Europe!), rosé is simply a fact of life.
And why shouldn't it be? Rosé (rosato in Italy and rosado in Spanish-speaking countries, alongside the Basque Txakoli) is incredibly versatile, perfect for sipping on a beach vacation or in your backyard with an al fresco dinner.
Since many of us know less about rosé than other wines, it can be difficult to choose a bottle. Before we get into the must-knows about rosé, let's clear up a few misconceptions:
Rosé is not a blend of red wine and white wine. Sure, it's pink color certainly looks like a 50/50 blend of pinot grigio and Cabernet, but it's not quite that simple. White wine and red wine are not different colors because they're made from different grapes (though they may very well be). The color in red wine comes from skin contact—time that the juice from the pressed grape is co-mingled with its skin before being strained away. For red wines, this time is longer and the juice retains more of the color and flavor quality that comes from the skin.In rosé wines, there is more skin contact than in white wines—anywhere from a few hours to a week—but not enough to qualify it as a red wine.
Rosé wines are not all sweet, and in fact, in Provence, rosés have to be dry to qualify for their protected origin status (AOC). Like all wines, the aroma, flavor, color, and sugar-levels with vary depending on the grape, origin, and vintage.
So now that those rumors are cleared up, how can you pick a rosé to drink alongside your sweet summer tomatoes and hamburgers?
First, don't be overwhelmed and don't stress out. It's just wine, and being stress free is basically the point.
If you're just starting your rosé journey, Provence is a natural place to begin. The region produces more rosé than anywhere else in the world, so they've figured it out by now. And because the region has so many talented producers, there is a wide range of availability in all price points. Provençal rosé is generally delicate, crisp, and light in color. Beyond Provence, look for other French rosés from the Rhone Valley.
For a bolder, more fruit-forward rosé, look to the south of Italy for rosatos from the sunshine-rich regions of Sicily and Puglia. These wines, like their warmer-weather Spanish counterparts, are often deeper in color and full-bodied.
You can get a fair gauge for the dryness of a rosé by looking at the alcohol by volume (ABV) percentage on the bottle's label. In general, wines with an ABV above 12.5% will be dry, and less than 12.5% will be less dry, and maybe even sweet.
Rosés are generally meant to be consumed within a few years, so don't get distracted by aged bottles. And be sure to chill your wine before you serve it. Rosés are meant to be served cold.
And if you happen to choose a bottle that is less than stellar (been there, done that) rosés are a great addition to a chilled summer spritzer. Pour the wine over ice, add a dash of St. Germaine, and a splash of sparkling water. Or go full on frosé (use our Frozen Aperol Spritz recipe as a guide) with rose and blended berries.