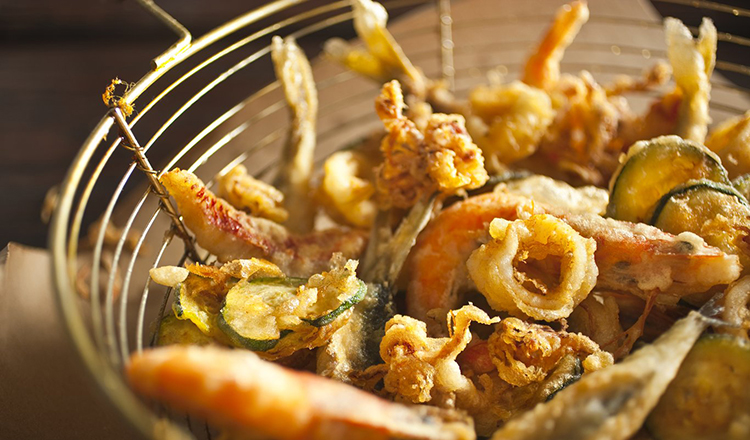 Serves 4 to 6
Ingredients
1 lb squid, cleaned, tentacles and bodies separated 12 medium shrimp (20/25 count), peeled and deveined 1 lb any type of fish, cleaned and skinned 2 cups warm water 2 teaspoons sea salt, plus more for sprinkling 3/4 cup all-purpose flour, or as needed 2 qt olive oil or… Ingredients
1 lb squid, cleaned, tentacles and bodies separated
12 medium shrimp (20/25 count), peeled and deveined
1 lb any type of fish, cleaned and skinned
2 cups warm water
2 teaspoons sea salt, plus more for sprinkling
3/4 cup all-purpose flour, or as needed
2 qt olive oil or any frying oil
4 lemons, cut into wedges, for garnish
Directions
The squid tubes may be left whole or cut into rings. Leave the shrimp whole. Cut the fish into large pieces and set aside.
Mix the warm water and salt in a bowl until the salt is dissolved.
Place the flour in a flour sifter and gradually sift the flour over the salted water while you stir it with a whisk or fork. Keep on stirring, adding the flour until you have a batter that resembles heavy cream. Make sure no lumps are formed; this is why you want to take the time to sift the flour. Based on the quality and brand it might slightly vary, so adjust accordingly.
Heat the oil in a deep fryer or large deep pot to 370°F. Dip seafood pieces one piece at the time into the batter and drop into the hot oil. Fry only a small amount at a time so that the oil always stays hot, resulting in perfectly done fried food.
Remove with a slotted spoon and transfer to a tray covered with paper towels. Sprinkle with salt and serve immediately with lemon wedges.
Copyright © 2022 The Culinary Institute of America