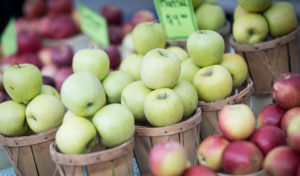 You've probably brought home a pineapple and thought, "If I leave it on the counter for a few extra days, it will be extra sweet!" Or maybe a quart of strawberries or a watermelon.
Well, if you have, you may have also experienced the disappointment when that pineapple isn't quite as sweet as you expected, and there's a good reason for that.
Fruits ripen when naturally-occurring enzymes break down starches within the fruit to make sugar. The fruit becomes softer and sweeter, which is what we look for in a ripe fruit.
Though all fruits go through this process, there is one big distinction that determines when fruits ripen. Fruits are categorized as either climacteric or non-climacteric.
Climacteric fruits undergo a particular stage of ripening that is characterized by increased production of ethylene gas. What's most important to know about climacteric fruits, however, is that they will continue to ripen once they are harvested. This means if you purchase an underripe climacteric fruit from the grocery store, it will continue to ripen at home.
On the other hand, non-climacteric fruits will not continue to ripen once they are plucked from their plant. So, if a non-climacteric fruit is picked before it is ripe, there is no hope for it to ripen further.
Knowing which fruits are climacteric or non-climacteric helps us to make informed decisions at the grocery store or farmers' market. Peaches, for example, are climacteric, so we can purchase firm, under-ripe peaches, because they will eventually ripen.
However, an under ripe lemon, a non-climacteric fruit, will not continue to ripen, so we have to be sure to choose lemons that yield to gentle touch, are heavy for size, and are vibrant yellow all over.
There is no trick to identifying climacteric or non-climacteric fruit by sight, though it's likely you could use your fruit-loving experience to figure it out! On Monday, a banana may not be very sweet and could be a bit starchy. But on Thursday, a banana from that same bunch might be soft and very sweet. Looks like bananas are climacteric!
Here's a little Food Fact Friday cheat sheet to help you navigate the produce aisle!
Climacteric Fruits:
Apples
Apricots
Avocados (a fruit!)
Bananas
Blackberries
Blueberries
Cantaloupe
Kiwis
Mangoes
Nectarines
Peaches
Plums
Pears
Tomatoes
Non-Climacteric Fruits:
Cherries
Grapefruit
Grapes
Lemons
Oranges
Pineapples
Pomegranate
Raspberries
Strawberries
Watermelon