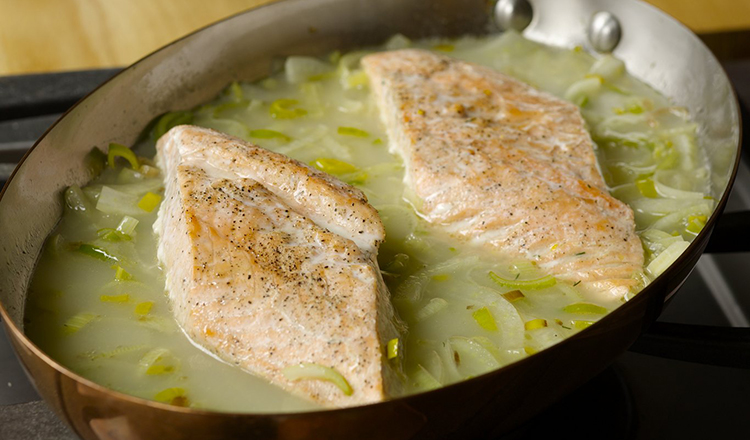 This all-purpose poaching liquid is well-suited to a number of fish, so choose what is freshest at your market. Makes 4 servings
Ingredients
4 teaspoons almond oil 1 lb 8 oz fish fillet, such as flounder or salmon 1/2 teaspoon kosher salt 1/2 teaspoon freshly ground black pepper 2 cups thinly sliced fennel bulb… This all-purpose poaching liquid is well-suited to a number of fish, so choose what is freshest at your market. Makes 4 servings
Ingredients
4 teaspoons almond oil
1 lb 8 oz fish fillet, such as flounder or salmon
1/2 teaspoon kosher salt
1/2 teaspoon freshly ground black pepper
2 cups thinly sliced fennel bulb
2 cups sliced leek, white and light green parts
2 garlic cloves, thinly sliced
1 teaspoon orange zest
3 cups low-sodium chicken broth
Juice from 1 orange
2 teaspoons arrowroot
1/4 cup toasted sliced almonds
1/4 cup minced fennel fronds
Directions
Preheat oven to 350°F. Cut a piece of parchment paper the size of the pan being used to poach the fish. Coat the parchment paper with a thin layer of the almond oil.
Season the fish with the salt and pepper and set aside. Heat the remaining almond oil in the pan over medium heat. Add the fennel and sweat until it starts to soften. Add the leek, garlic, and orange zest. Once the leeks begin to soften, place the fish fillet on top of the vegetables.
Add enough of the broth to come half to three-quarters of the way up the sides of the fish. Add the orange juice and cover with the prepared parchment paper, oiled side down. Place the pan in the oven and poach just until the fish is opaque, 10 to 15 minutes.
Remove the fish from the pan and cover to keep warm. Strain the poaching liquid into a small saucepan and reserve the vegetables. Mix the arrowroot with 1 tablespoon water to form a paste. Bring the poaching liquid to a boil and add the arrowroot paste.
Copyright © 2021 The Culinary Institute of America