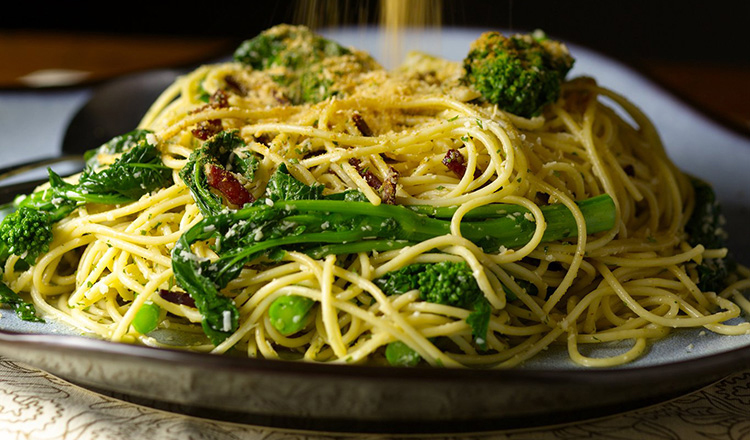 Makes 6 servings
Ingredients
1 1/2 oz pancetta, julienned 1 cup diced onion 3 garlic cloves, minced 1 tablespoon chopped thyme 1 teaspoon red pepper flakes 1 bunch broccoli rabe, trimmed and chopped 1 3/4 cups chicken broth 1 tablespoon lemon juice 1 lb dried fedelini or other pasta 3/4 cup toasted fresh bread… Ingredients
1 1/2 oz pancetta, julienned
1 cup diced onion
3 garlic cloves, minced
1 tablespoon chopped thyme
1 teaspoon red pepper flakes
1 bunch broccoli rabe, trimmed and chopped
1 3/4 cups chicken broth
1 tablespoon lemon juice
1 lb dried fedelini or other pasta
3/4 cup toasted fresh bread crumbs
2 tablespoons grated Parmigiano-Reggiano
2 tablespoon chopped parsley
Directions
Cook the pancetta in a large sauté pan over medium heat until it the pancetta bits are crisp and the fat has rendered, about 2 minutes. Add the onion and garlic and sauté, stirring frequently, until the onions are golden brown, about 4 minutes. Add the thyme and red pepper flakes and cook just long enough to heat them, about 1 minute.
Add the broccoli rabe and sauté, stirring frequently, until it is bright green and hot, about 3 minutes. Add the broth and simmer over low heat until the broccoli rabe is tender and the broth has nearly cooked away, about 5 minutes. Taste and season with lemon juice and red pepper. Keep the broccoli rabe warm while you cook the pasta.
Bring a large pot of lightly salted water to a rolling boil over high heat. Add the fedelini and boil until tender to the bite, 7 to 9 minutes. Drain the fedelini through a colander, reserving about 1/2 cup of the pasta water.
Add the fedelini to the broccoli rabe and lift and toss to combine the ingredients over low heat. Add enough of the reserved pasta water to evenly and lightly coat the fedelini if needed (the pasta should look creamy, not oily or dry).
Serve the pasta in a heated bowl or individual plates. Top with the toasted bread crumbs, Parmesan, and parsley.
Copyright © 2022 The Culinary Institute of America