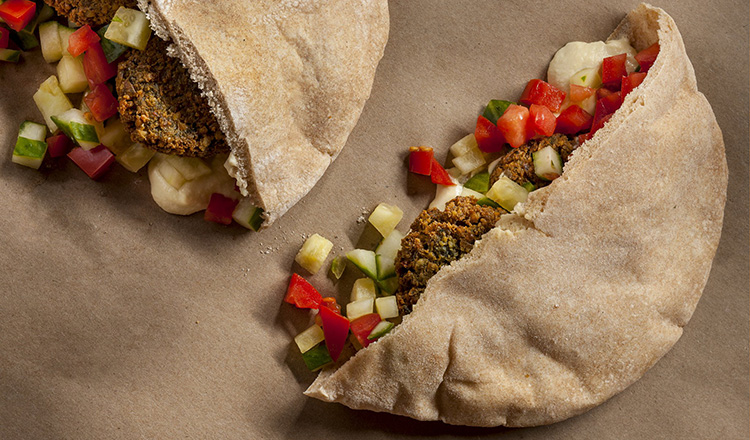 Makes 8 portions
Ingredients
1 lb dried chickpeas 1/2 bunch flat-leaf parsley 1/2 bunch cilantro 8 scallions 1 teaspoon cayenne 1 tablespoon ground cumin 2 teaspoons ground coriander 6 garlic cloves, peeled 1 teaspoon kosher salt, plus more as needed Pure olive oil, as needed, for deep-frying 4 pieces Pita Bread, cut in half… Makes 8 portions Chef's Note: When grinding the soaked legumes, the fine disk of a meat grinder is preferable to a food processor. If using a food processor, it's easy to over- or under-process the ingredients, which results in an unpleasant texture either way.
Ingredients
1 lb dried chickpeas
1/2 bunch flat-leaf parsley
1/2 bunch cilantro
8 scallions
1 teaspoon cayenne
1 tablespoon ground cumin
2 teaspoons ground coriander
6 garlic cloves, peeled
1 teaspoon kosher salt, plus more as needed
Pure olive oil, as needed, for deep-frying
4 pieces Pita Bread, cut in half
1 cucumber, peeled, cut into small dice
2 tomatoes, cut into small dice
1 lb hummus, for serving
Directions
Pour enough boiling water over the chickpeas to cover by 4 to 5 inches. Allow to soak for at least 8 hours in the refrigerator.
Drain the chickpeas thoroughly, and combine with the parsley, cilantro, scallions, cayenne, cumin, coriander, garlic, and salt. Grind the mixture through the 1/4-inch die of a meat grinder. See Chef's Notes for more information about grinding.
Shape a small ball of the chickpea mixture to test it. Fry the test piece in 350ºF olive oil until golden brown and cooked through. Taste it, and adjust seasoning if needed. Shape the remainder of the chickpea mixture into flattened patties. Deep-fry each patty in until golden brown and cooked through, 2 to 3 minutes.
To serve, place 2 falafel patties into each pita half. Garnish with cucumbers, tomatoes, and hummus. The falafel can be served as a handheld item or on a plate.
Copyright © 2022 The Culinary Institute of America