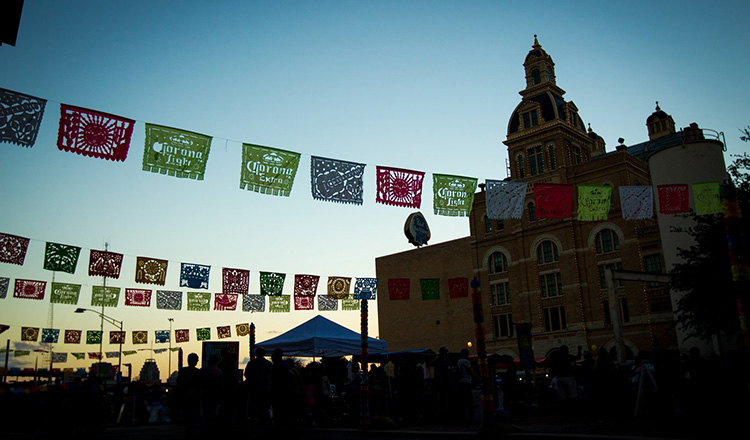 You may have heard that, for as cherished as it is in the United States, Cinco de Mayo is a relatively minor holiday in Mexico. Admittedly, in the US, our celebrations tend to center around the tacos rather than the Mexican army's victory over France in the 1862 Battle of Puebla, despite its historical significance.
If we're taking a moment of self-examination, we should also consider our relationship with Mexican food. At the CIA's San Antonio campus, we are surrounded by Mexican cuisine, and while we are passionate about sourcing authentic ingredients and absorbing as much knowledge about traditional Mexican dishes as possible, Mexican-American food holds a special place in our hearts.
Especially here in Texas, where we celebrate the state's long, entwined history with Mexico and the Mexican people, Tex-Mex cuisine is not "Americanized" Mexican food, but a cuisine all its own. It is deeply rooted in the commingling of two countries and the result of centuries of culture-sharing among the Tejano people. In fact, many culinary historians in the region are quick to remind us that Tex-Mex food is not a fusion cuisine or America's interpretation of Mexican food, but it is instead the food that people in South Texas have simply always cooked.
Don't confuse Tex-Mex for salad bowls made of fried tortillas. Beside the abundance of cheesy goodness like enchiladas, true Tex-Mex is highly flavored, embracing low-and-slow braised and barbecued meats, hand-pressed tortillas (made from corn or flour, because neither is against the rules, despite what you may have heard), and plenty of herbs and fresh vegetables from the region. In a hot place, that means a lot of chiles and cactus (nopales or prickly pear).
Corn is king, whether it be ground in tortillas, served as elotes or esquites (Mexican-style street corn served on or off the cob with crema, cotija cheese, a dash of chile powder, and a squeeze of lime), or as tamales, which are forever popular, but especially around Christmas time. In Texas, you'll find these things filled with beans, chicken, seafood, or pork, but of course, beef is the name of the game, and it may be grilled over hot coals or braised with ingredients like tomatoes, chiles, and cumin.
Soups and stews are favorite holdovers from days when ingredients needed to be stretched to feed ranchers and large families, and they're often filled with beans and vegetables, like roasted poblano peppers or hominy. A piping hot bowl of pozole or tortilla soup may be served alongside sliced avocado, crumbled queso, and chopped cilantro.
And don't forget breakfast, which brings out some of the champions of Tex-Mex cuisine: breakfast tacos filled with scrambled eggs, breakfast meats, and vibrant salsas. Not to be overshadowed are chilaquiles, which is fried tortilla chips cooked with salsa until they're soggy-crisp, and the chilaquiles-adjacent migas, which adds scrambled eggs.
It's not all meat and corn, though. One of the all-time favorite Tex-Mex snacks (next to guacamole, of course) is fresh fruit doused in house-made hot sauce or Tajín seasoning: chile, salt, and dehydrated lime juice—an absolute joy. To drink, you'll find sweet, tart, and refreshing agua frescas and creamy horchata, a drink made with soaked rice and Mexican cinnamon. Cocktails are more than margaritas, and in Tex-Mex country, a grapefruit and tequila Paloma is just as popular, as is the Michelada, which adds beer, lime juice, and spices to a tomato and chile base (perfect alongside your chilaquiles!).
No matter what city or small town you find yourself in, you are in range of at least 5 taco restaurants (or stands or food trucks), and they might be filled with rotisserie-roasted pork (al pastor, often with pineapple), crunchy fried chicharrón, or, because: Texas, smoked brisket or even fried chicken. There's a good chance that nearby you'll find a bowl of melty chile con queso. Often considered the national dish of Texas, every city in the state boasts the best recipe on this side of the Rio Grande.
While we're talking about less virtuous dishes, it might be a good time to mention Frito pie, which is the pinnacle of Texas innovation. Frito pie consists of corn chips topped with Texas-style chile (no. beans.) and usually a gratuitous amount of cheese. It is sometimes served in the corn chip's bag for a meal-on-the-go, and it is not unwelcome at even the coolest of parties and special events in the Lonestar State.
The best part of Tex-Mex in 2019 is that it is slowly gaining a foothold in the mainstream culinary universe, all over the country. Fine dining restaurants are serving Tex-Mex unabashedly, with probably a bit more Mex than Tex, as we embrace the dynamic and delicate flavors that come from Mexico's many regions.
We're seeing more plant-based dishes, with an emphasis on fresh ingredients and more traditional cheeses from small purveyors. And even for the small Mom-and-Pop, truly Tex-Mex joints sprinkled all over Texas, where folks still go for margaritas, enchiladas, and cheesy burritos, there is no longer a guilty-pleasure element attached to the meal, as we realize that while a dish may not be authentically Mexican, it is authentically Mexican-American.
Here are a few of our favorite Tex-Mex and Mexican-inspired dishes to try for yourself:
Raw Tomatillo and Avocado Salsa
Corn Chowder with Chiles and Monterey Jack Cheese
Mexican-Style Street Corn Salad
Sweet Potato and Black Bean Tacos with Avocado-Pineapple Cream