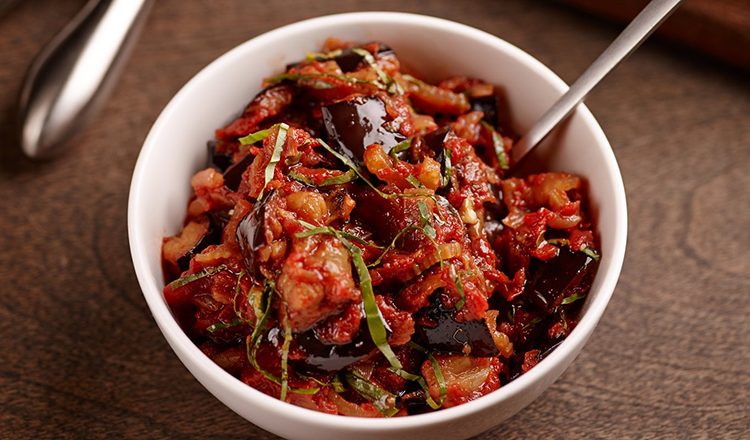 Ingredients
1 eggplant (about 1 lb), peeled and cut into small dice 2 tablespoons kosher salt 1 red bell pepper, seeded and cut into small dice 3/4 cup minced onion 1 teaspoon minced garlic 1/4 cup olive oil 2 cups canned diced tomatoes 2 tablespoons tomato paste 2 tablespoons basil chiffonade 1 teaspoon minced… Ingredients
1 eggplant (about 1 lb), peeled and cut into small dice
2 tablespoons kosher salt
1 red bell pepper, seeded and cut into small dice
3/4 cup minced onion
1 teaspoon minced garlic
1/4 cup olive oil
2 cups canned diced tomatoes
2 tablespoons tomato paste
2 tablespoons basil chiffonade
1 teaspoon minced marjoram
1 tablespoons balsamic vinegar
1/3 cup finely grated Parmesan
Directions
Preheat the oven to 250°F.
Place the eggplant in a large bowl and sprinkle with the salt, tossing evenly to distribute. Place the salted eggplant in a colander and allow to drain for 20 minutes.
Quickly rinse the eggplant under cool water, then place on paper towels to absorb excess moisture.
In a large bowl, combine the eggplant with the bell pepper, onion, garlic, and oil and toss to combine. Add the tomatoes and tomato paste and toss to thoroughly combine.
Spread the vegetable mixture evenly on a baking sheet and roast for 25 to 30 minutes, or until the vegetables are tender and lightly browned.
Remove the pan from the oven and add the basil, marjoram, and vinegar. Gently fold the ingredients together.
Transfer the caponata to a glass or stainless steel container with a lid. Let cool to room temperature, then stir in the cheese. Refrigerate the caponata in a covered glass or stainless steel container for up to 1 week. The flavor will improve if the caponata is allowed to rest for at least 24 hours before use.
Copyright © 2022 The Culinary Institute of America