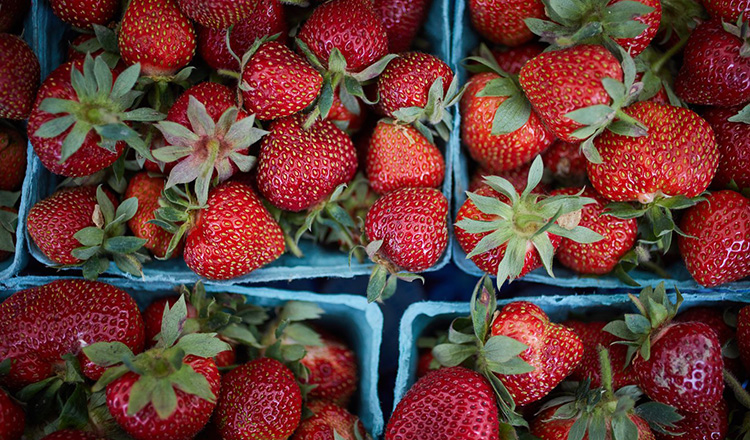 Making jam can feel like an overwhelming project, mostly because of the labor-intensive canning process.
But making jam doesn't requirecanning and can actually be a really quick way to preserve fruits at their peak season!
Depending on where you live, you are either knee-deep in strawberries or waiting expectantly for them to arrive. If you're lucky enough to live near a pick-your-own farm, it can be easy to find yourself swimming in them, and try as you may, you can only eat so many.
We've developed a No-Fuss Strawberry Jam that makes a small batch that you can eat right away (it will stay in your refrigerator for a month or so) or freeze to enjoy all year round. You'll only need a pound of strawberries for each batch, but it's quick and easy enough that you can prepare a few batches in a weekend.
To prepare the jam, simply mix chopped berries with sugar and a squeeze of lemon juice, and then cook until it's, well, jammy!
When the mixture is hot, it's hard to tell if it's ready (if firms up as it cools), so the trick is to freeze a plate before you start cooking, and then put a small bit of jam on the frozen plate. It will quickly cool it and you can gauge the texture. If it's not quite ready, you just keep cooking until it is.
Look for plastic, lidded containers for freezing your jam (glass is a gamble, since it's prone to breaking in the freezer) and then take it out to defrost a few days before you'll use it.
This recipe is particular to strawberries, which have enough natural pectin to help the jam set, but you can experiment with other berries, or even add some chopped rhubarb, lemon zest, or a cinnamon stick. Because you aren't canning the mixture, you don't have to worry about achieving safe levels of acidity or anything like that.
If your jam doesn't set as well as you would have hoped, it's still good for serving over ice cream, mixing into cake frostings, or even stirring into lemon juice to make a quick lemonade. If you prefer a smoother jam, you can run your berries in a food processor until they're as small (or smooth) as you like.
If you have more berries than you have time to process, don't forget you can freeze them for later. If you think you'll want to make more jam, freeze the berries in a container or zip-top bag with the sugar and lemon juice. Then all you need to do it empty it into the skillet and cook it!