Decorating cookies is fun any time of the year, but 'tis the season for extra special treats to share with your friends and family! Whether you bring them as a gift to your teachers or to grandma's house, there are so many easy ways to dress up your favorite cookies in their best holiday looks!
You can decorate any cookie by dipping it in chocolate or sprinkling it with colored sugar or sprinkles, but when we talk about snazzy cookies, we usually think about decorated sugar cookies or gingerbread. These cookies are rolled with a rolling pin and then cut out using cookie cutters to make festive shapes, like stars or reindeer.
Plenty of grocery stores sell prepared icing for decorating, and you can find just about any color you like. But for picture-perfect decorating, we like making our own royal icing. Royal icing is a versatile decorative icing whose texture can be adjusted from very thick for detailed work to very thin for filling in outlines. When exposed to air, royal icing dries very quickly and becomes hard and brittle.
After mixing a batch of royal icing, place a damp paper towel directly on the icing's surface and cover with plastic wrap to prevent a crust from forming. Royal icing is easily tinted with food coloring and can be piped using a pastry bag or spread with a small offset spatula. It can be held, covered with a damp paper towel and plastic wrap and refrigerated, for up to 2 days. After storing, whisk the icing and check for consistency before using. For a thinner icing, add more egg whites. For a thicker icing, add more sifted confectioners' sugar.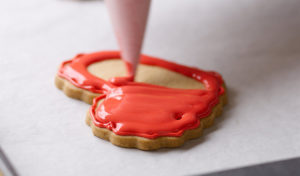 Many of the decorated sugar cookies you see are done with a technique called flooding. Flooding is done with two consistencies of royal icing. First you pipe an outline of relatively stiff but still pipeable royal icing around the edge of the cookie or in the pattern you would like to fill and allow it to dry. This creates a crisp, clean edge. Then use thinned royal icing to fill the interior of the outline. This icing should be thin enough to fill the design easily (test the consistency by lifting a spoon of icing out of the container it is in and dropping the icing back down—the icing should disappear by the count of ten). Be careful not to add so much that the icing overflows the piped edge you created.
Use the stiff icing to create designs like the ones you may have seen in videos. Think of it as outlining a picture before you color it in. The outline will create small sections of cookie that can be filled in with different colors. So, if you want to make a cookie that looks like a snowman, you can draw an outline of the snowman's hat and an outline of the scarf, in addition to the outline of his snowy body. Then you can flood each part – the hat, the scarf, the body – with different colored icing.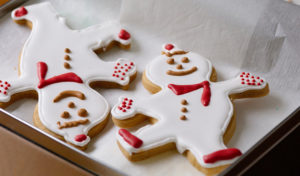 You can then pipe more icing into the flooded icing, while it's still wet, to create flat designs in the cookie. Use a toothpick or skewer to drag different colors of icing together to make swirls or unique designs.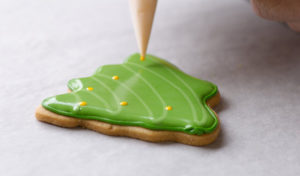 Or you can wait for that icing to harden (it usually takes a whole night), and then pipe more decorations on top. You can use small dots of royal icing like glue to add sprinkles (for Christmas trees, they will look like lights of ornaments!) or other decorations.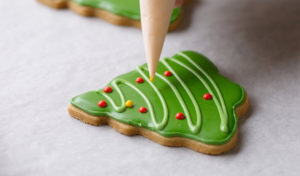 Remember that any cookie can become an ornament if you simply put a hole in the top before baking. After decorating, simply string with a ribbon for hanging.