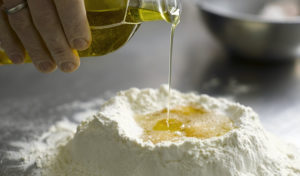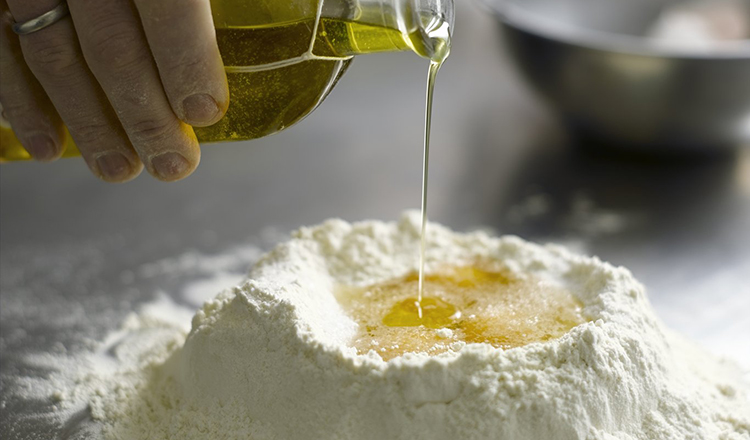 Our first weekend in Cooktober calls for fresh pasta! Fresh pasta is easy to make, requires minimal ingredients, and it's more nutritious than dry, store bought pasta. There are many pro's to making your own pasta at home, a big one is being able to choose your flour! Using whole wheat flour gives a nice nuttiness to any pasta dish and creates a chewier texture. The fiber content and more nutrients are also a plus!
A rule of thumb for fresh pasta is 1 egg for 1 cup of flour, but because when using whole wheat flour, we start with about a quarter cup less of flour to begin with (you can always add more).
SERVES 8  
3½ cups durum flour  
3½ cups whole wheat durum flour  
2 Tbsp. extra-virgin olive oil 
1 Tbsp. salt  
8 eggs  
To make the pasta, combine the durum flour, whole wheat durum flour, oil, and salt in a food processor. Add the eggs and process until the mixture resembles coarse meal. When pressed, the dough should form a cohesive mass. Add water or flour to adjust the consistency as needed. 
Transfer the dough to a work surface and knead until the dough is very firm yet still pliable. Wrap in plastic wrap and allow the dough to rest at room temperature for at least 30 minutes. 
Roll the pasta dough into sheets 1⁄8 in/3 mm thick. Cut the sheets into linguine or similar long thin strips, and reserve uncovered for at least 15 minutes.
Generously salt a pot of the boiling water, then add the pasta and cook until just done, 1 to 2 minutes. Drain the pasta, and in a large bowl, toss it with favorite sauce. Serve immediately.