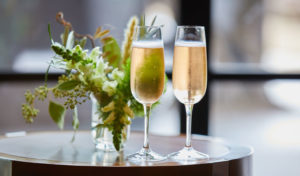 Date night with your better half doesn't necessarily mean making reservations at the newest restaurant in town. Sometimes you can create the best memories without leaving the comfort of your own home. Think outside the box when creating a dinner at home for two and try some of our favorite ideas:
Trip around the world. Whether it's a throwback to one of your favorite vacations together, or exploring the cuisines of an upcoming trip, pick some of the region's signature dishes and get cooking.
Make it a competition. A little friendly competition is a surefire way to make any evening more exciting. Challenge yourselves and step outside your comfort zone!
Recreate a meal from your favorite restaurant. Everything tastes better homemade! Download the menu from your favorite restaurant and start creating your own memories.
If you want us to take the guesswork out of menu planning, we've got you covered! Here's a global-inspired menu, perfect for two, complete with dessert and a signature cocktail.
Grilled Haloumi Cheese with Tomatoes
Grilled Zucchini Kebabs
Baklava
Apricot Flip Cocktail