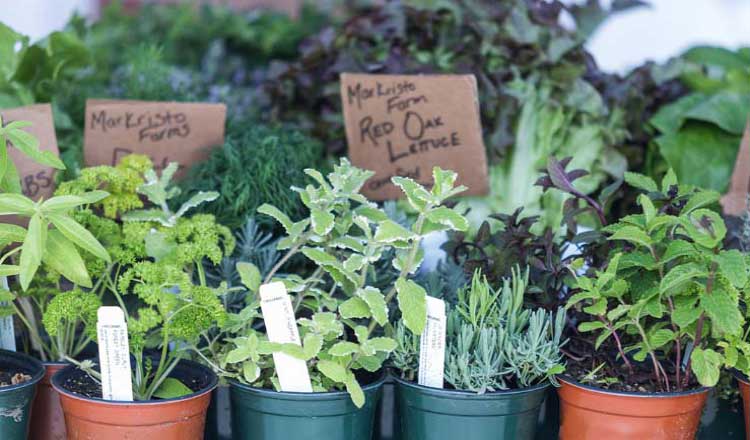 Article by: By Chef Vincent Carvalho
It's no secret the key to great food is cooking with the freshest ingredients. Whether you're looking to whip up a chimichurri sauce on the fly or making a veggie soup for those crisp fall days, now is the perfect time to start your own edible garden. Here are a few basics to consider before starting your fall edible garden.
Herbs
Herbs are relatively easy to grow and tend to thrive during the cooler fall months. Since herbs are fairly low maintenance all you need are a few clay pots, some sunlight, and water. Some great choices to start with are:
Rosemary
Basil
Sage
Thyme
Harvest frequently and handle with care
Herbs have volatile aromas and flavors, so take particular care when harvesting. Its best to harvest in the morning, and use immediately. If you have excess, no worries, wrap them in a damp paper towel to preserve freshness. Remember that storage is important, try not to stack or bruise the herbs as this could compromise some important flavor profiles.
Hardy vegetables
Some veggies thrive during cooler months, so you can harvest them through your first hard freeze. Garden peas, kale, and carrots are particularly tolerant of cooler climates. An added bonus is that these versatile vegetables are nutrient rich. My favorite ways to prepare them are:
Roasted root vegetables with garlic and fresh thyme
Carrot purée with ginger and infused lemon grass
Vegan beet hummus
Cauliflower au gratin with Manchego and shaved Marcona almonds
Layout and design
When it comes to planning your garden, its best to do so with the height of the full-grown plant in mind. Keep taller plants in the back and ground hugging ones in the front. One of the major benefits of having your own garden is convenience. Make sure you plant is in an area that is easy to harvest and close to your kitchen.
Most importantly, have fun! Gardening can be as relaxing as it is functional. If it's your first attempt at creating a garden, allow for trial and error. You can also ask your local plant nursery employees
Chef Vincent Carvalho is a CIA lecturing instructor in culinary arts.