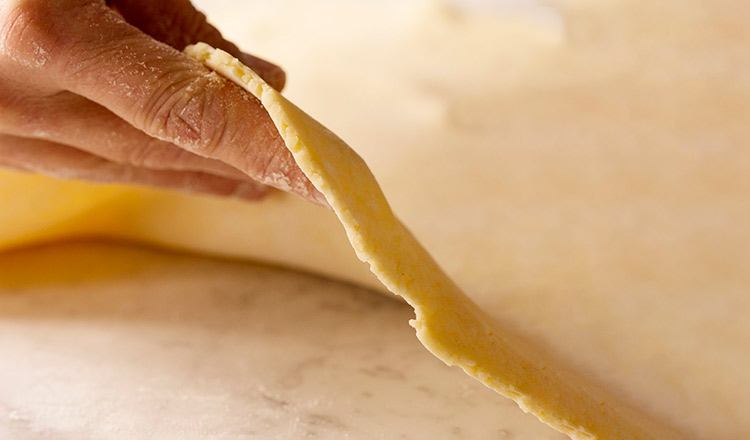 Makes 2 discs
Ingredients
3 cups all-purpose flour 1 teaspoon kosher salt 8 ounces cream cheese, cold, cut into 3/4-inch cubes 1 cup (2 sticks) unsalted butter, cold, cut into 3/4-inch cubes 1 tablespoons ice-cold water 2 teaspoons fresh lemon juice
Directions
In the bowl of a stand mixer fitted with the… Ingredients
3 cups all-purpose flour
1 teaspoon kosher salt
8 ounces cream cheese, cold, cut into 3/4-inch cubes
1 cup (2 sticks) unsalted butter, cold, cut into 3/4-inch cubes
1 tablespoons ice-cold water
2 teaspoons fresh lemon juice
Directions
In the bowl of a stand mixer fitted with the paddle attachment, combine the flour and salt.
Blend the dry ingredients on low speed until combined, about 15 seconds. With the mixer off, add the cream cheese pieces to the mixing bowl and combine on medium speed until the mixture resembles cornmeal, 2 to 3 minutes. Add the butter pieces and combine on medium speed until the mixture appears rough, with irregular pieces of butter no larger than small walnuts and no smaller than peas, 2 to 3 minutes.
Sprinkle the ice-cold water and the lemon juice over the mixture and mix on low speed for 30 to 60 seconds, or until just combined. Continue to mix until the dough is rough but pliable. The dough should just hold together when pressed to the side of the bowl. It should not form a ball or mass of dough in the bowl.
Turn out the dough onto a lightly floured work surface. Shape the dough into two 5- to 6-inch disc and wrap it tightly in plastic wrap. Refrigerate for at least 1 hour, or preferably overnight, until firm.
Copyright © 2022 The Culinary Institute of America