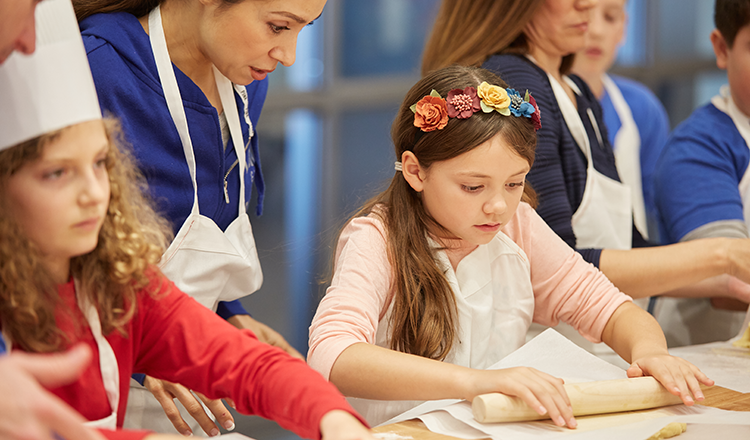 Parents, this post is for you. Remember a couple of weeks ago when life was simpler? When your "only" responsibilities were holding down a job and caring for your children, without also running your very own home school?
Through our Sunday Family Fundays here at The CIA at Copia in downtown Napa (currently on pause due to COVID-19) we have learned a lot about successfully cooking with kids. (Tip: let them be as hands on as possible, as quickly as possible.)
Kids love to be involved in the kitchen and we find they have a greater willingness to try new things if they have a hand in helping to prepare them. We've also developed some tried and true tricks to fold healthier ingredients into delicious classics so you can feel good about what the little ones are putting in their bodies.
Home schoolers: you can even kill two birds with one stone as cooking is, fundamentally, science, geography, and math. Need a refresher yourself on the chemistry of cooking or have a high schooler who loves science? Check out CIA's videos on: What exactly is an emulsion? What is actually happening when you cook a protein such as an egg? What is the science of frying?
The kids are hungry so we won't keep you any longer—below are some of our favorite recipes for cooking with kids.
Happy Cooking!
Chef Sandy and Maryam
Deliciously Disguised Vegetables: Veggie Packed Meatballs
Raspberry Fruit Rollups
Baked Root Vegetable Chips
Oatmeal Bites (Gluten and dairy free)
Black Bean Brownies

This story originally ran in The Napa Valley Register, March 2020.