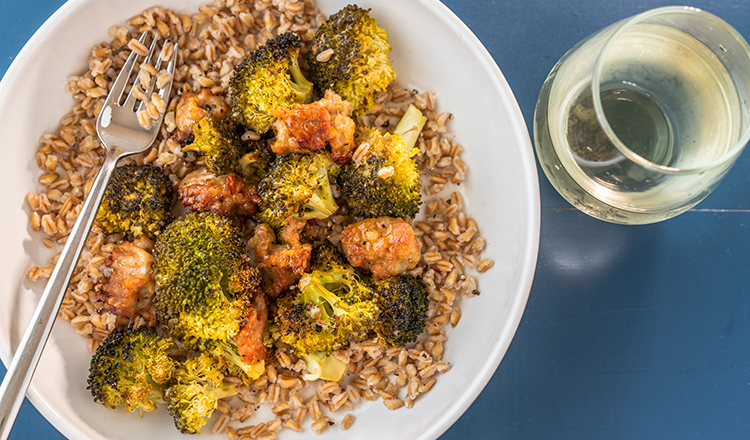 Follow here for our best pantry-friendly recipes, using ingredients you hopefully already have on hand! We'll continue to update this list, so check back if you're in need of more inspiration.
Cacio e Pepe—don't get bogged down on the type of cheese here. Parm will work just fine.
Quick and Easy Chicken Fried Rice — use leftover rice to make your friend rice, whether it's brown, white, long-grain, medium-grain. It will all work. Toss in any veggies, meats, or fish. Already-cooked items won't need as long to cook as raw, but toss them in to heat through and brown around the edges.
Spanish Potato Omelet—this dish uses a lot of eggs, but it makes for a great breakfast, lunch, or dinner, so they won't go to waste. Halve the recipe, if you like, but use a smaller skillet.
Roasted Veggie Fajita Bowls—use any grains, any veggies (frozen is fine!), any beans. There are no rules here. Top with whatever salsa or hot sauce you have in the fridge.
Greek Egg and Lemon Soup—use any type of rice you have on hand, and add proteins or veggies (fresh or frozen), if you like.
Honey-Sriracha Wings—wings can be dinner! If you don't have honey, brown sugar would be great, too.
Lemon-Roasted Sausage and Broccoli Grain Bowls—sub diced chicken thighs, frozen shrimp, or beans for the sausage, and any veggie for the broccoli.
One-Pot Mediterranean Pasta—it's betta with feta, but you won't miss it. Sub any color onion for the shallot, or leave it out. Use sun-dried tomatoes, pepperoncini (or other pickled peppers), or canned artichokes in place of the roasted peppers or olives. Whatever you have! Dried oregano, or no oregano, is fine!
Spaghetti with Garlic, Oil, and Hot Pepper—use any variety of pasta you have on hand to make this super simple pasta dish. Serve it as is or topped with seared frozen shrimp, flaked canned tuna, or white beans. You can make the dish without the fresh parsley if you?re out, but you might like a squeeze of lemon juice for some brightness.
Rice and Peas—frozen peas shine here. Use whatever cheese you have (or none, if that's the answer). And though it's not ideal, you can use long-grain white rice!
Fontina and Blackberry Grilled Cheese Sandwich—use any cheese, any bread, and any fruit or jam!
Pizza Margherita—these are typical Margherita toppings, but use what you have on hand. Set out toppings for a fun make-your-own pizza activity to help beat cabin fever.
Smashed Chickpea Toast with Pickled Fennel—smash whatever bean you want and cook it with onions, garlic, whatever you've got. Instead of the fennel, you can sprinkle the toast with a drizzle of vinegar or jarred pickled peppers, sauerkraut, olives.. anything briny.
Cream of Tomato Soup—this uses canned tomatoes, which couldn't be easier. Skip the cream, or add some milk (you can simmer to reduce it first, if you want!), cashew milk, or even sour cream or yogurt. Use any color onion or shallot (or not! It'll be fine) and water instead of broth if you don't have it. Substitute any veggie, including frozen, for the tomato and the process is the same.
Stracciatella (or egg drop soup!)—skip the breadcrumbs and use any broth you have on hand. The cheese is good, but not essential. Add anything you want to this soup to make it heartier, like frozen peas, shredded chicken, or even some rice or noodles.
Boston Baked Beans—baked beans are a crowd-pleasing side or a hearty main course. Use any white bean (or, any bean at all, really). If you don't have molasses, add a little extra brown sugar, and maybe a dash of soy sauce. Use mustard in place of mustard powder.