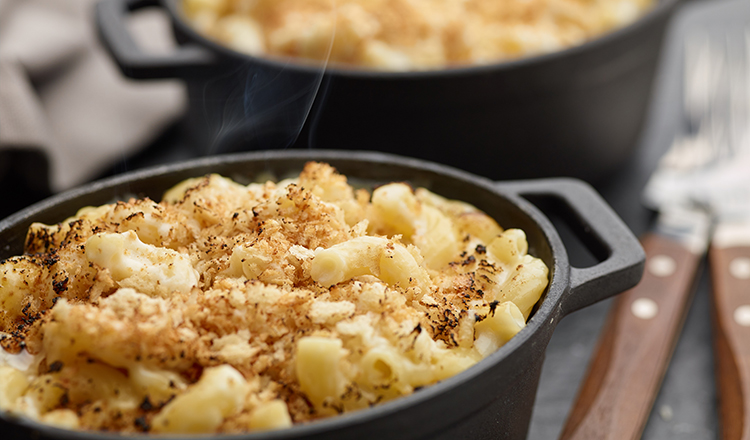 Makes 6 to 8 servings
Ingredients
3 tablespoons plus 2 teaspoons Kosher salt 2 quarts water 8 oz elbow macaroni 3 tablespoons unsalted butter 5 tablespoons all-purpose flour 3 cups whole milk 1/2 teaspoon sweet or smoked Spanish paprika 1 bay leaf 5 cups shredded sharp Cheddar cheese 1/4 teaspoon Tabasco sauce 1/2 teaspoon… Ingredients
3 tablespoons plus 2 teaspoons Kosher salt
2 quarts water
8 oz elbow macaroni
3 tablespoons unsalted butter
5 tablespoons all-purpose flour
3 cups whole milk
1/2 teaspoon sweet or smoked Spanish paprika
1 bay leaf
5 cups shredded sharp Cheddar cheese
1/4 teaspoon Tabasco sauce
1/2 teaspoon freshly cracked black pepper
1/4 cup panko bread crumbs
Directions
Preheat the oven to 375°F.
Bring 3 tablespoons of the salt and the water to a boil over high heat. Add the pasta and boil until tender but not completely cooked, 7 to 9 minutes. Drain the pasta in a colander.
While the pasta is cooking, melt the butter in a separate pot over medium heat. Stir in the flour, and cook, stirring, until there are no lumps and the mixture has cooked through, about 5 minutes. Be careful not to develop any brown color. Stir in the milk, paprika, and bay leaf. Increase the heat to establish a simmer, and simmer for 10 to 15 minutes, until the sauce has thickened. Remove and discard the bay leaf.
Add 4 1/2 cups of the cheese to the sauce in batches, about 1 cup at a time, waiting until most of the cheese has melted before adding the next batch. Do not allow the sauce to boil. Add the Tabasco, pepper, and remaining 2 teaspoons salt.
Combine the macaroni with the cheese sauce and mix well to coat. Pour the mixture into a 2-quart baking dish, and sprinkle with the remaining 1/2 cup cheese. Sprinkle the bread crumbs over the cheese and transfer the baking dish to the oven. Bake until the cheese is bubbling around the edges and the bread crumb crust on top has become golden brown and crunchy, 20 to 30 minutes. Allow the mac and cheese to set for 5 to 10 minutes before serving.
Copyright © 2022 The Culinary Institute of America