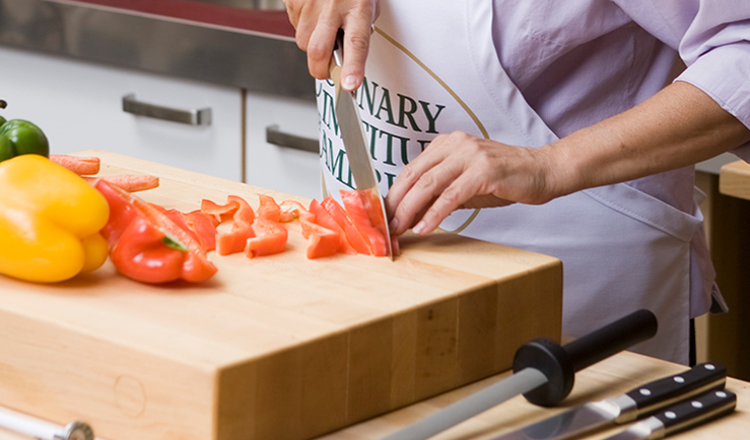 Bring the Experience Home
One of the best things about cooking in the CIA kitchens is working with top-quality professional equipment. So why not bring some of these same tools into your own kitchen and experience a little bit of Boot Camp at home? Our two exclusive tool kits are exceptional products designed for excellent handling and superb performance.
The Backpack Tool Kit—$425
8-inch Chef's Knife
10-inch Slicing Knife
11-inch Serrated Bread Knife
3 1/2-inch Paring Knife
Sharpening Steel
Fish Spatula
Rubber Spatula
Peeler
Apple Corer
Bench Scraper
Plastic Bowl Scraper
Locking Tongs
12-inch Wooden Stirring Spoon
12-inch Piano Wire Whip
12-inch Plastic Ruler
10-inch Offset Metal Spatula
4-piece Measuring Spoon Set
Pocket Thermometer
Digital Thermometer
Backpack with Travel Knife Case
The Starter Package—$175
7-inch Santoku Knife
5-inch Utility Knife
3 1/2-inch Paring Knife
Knife Roll with CIA Logo
Get Your CIA Boot Camp Tool Kit Today!
Purchase either the Backpack Tool Kit—or the Starter Package—in one of two easy ways:
Call customer service at 1-800-888-7850 (8 a.m.–10 p.m. ET). You will receive your kit when you arrive.
Place your order after you return home from Boot Camp at 1-800-888-7850 (8 a.m.–10 p.m. ET). Please note that shipping charges will be applied to phone orders.
These exclusive collections are available only from CIA and only for Boot Camp participants, so be sure to tell our customer service reps that you're a Boot Camper when you order.