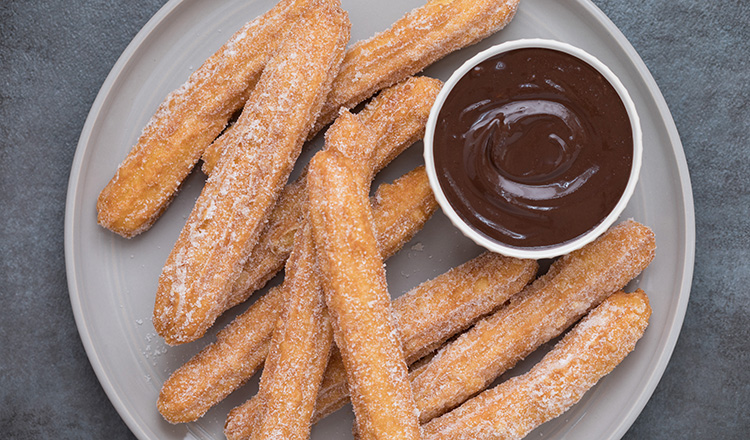 Makes 24 churros
Ingredients
1 cup water 1/2 cup (1 stick) unsalted butter 1/4 teaspoon kosher salt 1/2 cup plus 3 tablespoons all-purpose flour 3 eggs, beaten Vegetable oil, as needed, for frying
Directions
Combine the water, butter, and salt in a medium saucepan and bring to a rolling boil. Add the… Makes 24 churros Chef's Notes: The churros can be served rolled in cinnamon and sugar. Combine 1/4 cup sugar and 1 teaspoon cinnamon in a mixing bowl and roll the fried churros in the mixture as soon as they are out of the fryer.
Ingredients
1 cup water
1/2 cup (1 stick) unsalted butter
1/4 teaspoon kosher salt
1/2 cup plus 3 tablespoons all-purpose flour
3 eggs, beaten
Vegetable oil, as needed, for frying
Directions
Combine the water, butter, and salt in a medium saucepan and bring to a rolling boil. Add the flour to the boiling water, stirring vigorously with a wooden spoon over low heat until the mixture forms a ball and a white layer is appearing on the bottom of the pan, 1 to 3 minutes.
Transfer the hot dough ball to a dough mixer with a paddle attachment and mix on low speed for about 30 seconds. Gradually add the beaten eggs to the running mixer, making sure the eggs get fully absorbed by the dough. Transfer the batter into a piping bag with large star tip.
Heat the vegetable oil to about 360ºF. Squeeze 4-inch strips of the batter directly into vegetable oil (use scissor to snip the dough) and fry until golden brown, turning once, about 2 minutes on each side.
Once done, remove from the oil and allow to drain on a wire rack and blot gently with a paper towel. Serve.
Copyright © 2022 The Culinary Institute of America