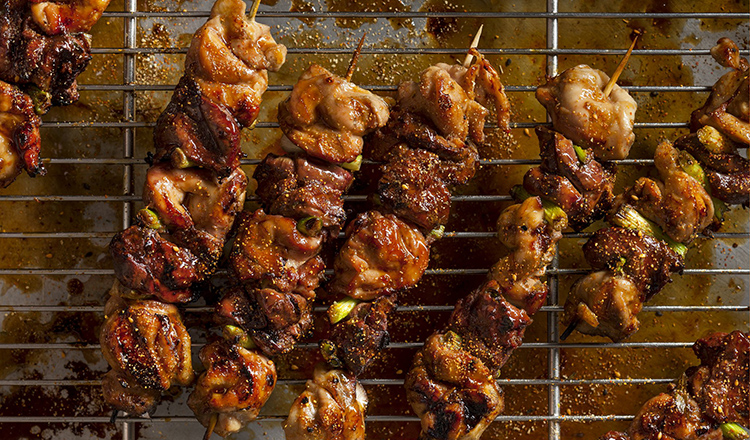 Makes 8 portions Chicken Skewers
Ingredients
8 (8-inch) bamboo skewers 1 lb chicken livers, cut into 3/4-in pieces 2 lb boneless, skinless chicken thighs, cut into 3/4-in pieces 8 green onions, cut into 3/4-in pieces

Yakitori Sauce
Ingredients
3/4 cup sake 1 cup mirin 1/4 cup sugar 2 tablespoons dark soy sauce… Makes 8 portions
Chicken Skewers
Yakitori Sauce
Ingredients
8 (8-inch) bamboo skewers
1 lb chicken livers, cut into 3/4-in pieces
2 lb boneless, skinless chicken thighs, cut into 3/4-in pieces
8 green onions, cut into 3/4-in pieces
Ingredients
3/4 cup sake
1 cup mirin
1/4 cup sugar
2 tablespoons dark soy sauce
1/2 cup light soy sauce, not low-sodium
Ground sansho pepper, as needed
Japanese seven-spice (shichimi togarashi), as needed
Directions
Soak the bamboo skewers for at least 15 minutes.
Skewer the chicken livers, chicken thighs, and green onions alternately onto the skewers.
For the sauce, combine the sake, mirin, sugar, soy sauces, sansho, and seven-spice in a pot, and allow it to simmer until it has reduced by a one-quarter, 5 to 10 minutes.
Prepare a grill for high-heat cooking. Grill the skewers, turning occasionally, until they are cooked through, about 5 minutes.
During the last minute on the grill, brush the yakitori sauce onto the skewers and allow to caramelize slightly.
Remove from the grill, and sprinkle with sansho pepper and Japanese seven-spice.
Copyright © 2022 The Culinary Institute of America