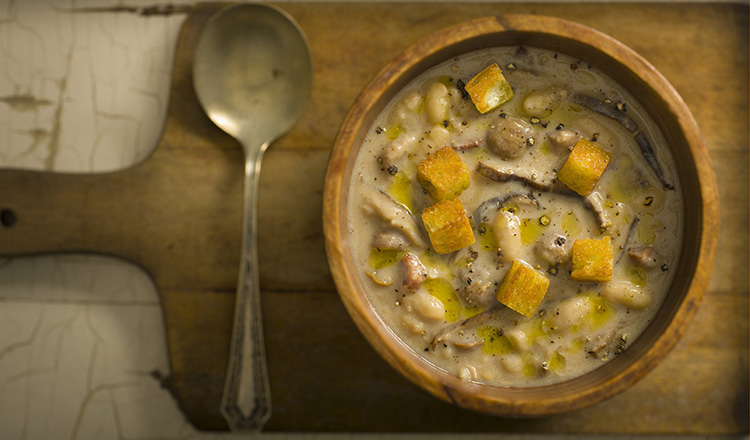 Makes 6 to 8 servings This soup comes from the interior of Italy, in the Campania region. It is the perfect treat for a cold winter night, served with a few slices of grilled bread. If fresh porcini are not available, try other mushrooms or substitute a few ounces of dried porcini for fresh ones.… Makes 6 to 8 servings This soup comes from the interior of Italy, in the Campania region. It is the perfect treat for a cold winter night, served with a few slices of grilled bread. If fresh porcini are not available, try other mushrooms or substitute a few ounces of dried porcini for fresh ones. (Reconstitute dried mushrooms by letting them soak in a bowl of warm water until they soften. Reserve the soaking liquid to add to broths or soups.)
Ingredients
8 oz fresh chestnuts
1 fresh bay leaf
2 oz smoked bacon, diced
1/2 medium yellow onion, minced
8 oz fresh porcini mushrooms, sliced
2 oz Marsala
1 1/2 cups cooked cannellini beans
3 fresh sage leaves
Salt, as needed
Freshly ground black pepper, as needed
4 cups whole milk
Extra-virgin olive oil, as needed
Directions
Cut an X on the flatter of each chestnut's two sides. Try to keep your cut shallow so that you don't cut into the nutmeat.
Bring a pot of water to a rolling boil and add the chestnuts. Let them boil just long enough for the shell around the crosshatch cut to start coming loose, about 10 minutes.
Remove the pot from the heat and, working with a few chestnuts at a time, take them from the water and pull away the shell. Put the peeled chestnuts in a pot and add enough water to cover them. Add 1 bay leaf and bring the water to a simmer over medium-high heat.
Heat a soup pot over medium heat. Add the bacon and cook, stirring occasionally, until the bacon renders some fat.
Add the onion and stir to coat with the fat. Sauté, stirring often, until the onions are tender without any browning, about 5 minutes. Add the porcini and cook until they are tender, 2 or 3 minutes longer. Add the Marsala and stir to release any drippings sticking to the pot.
Drain the chestnuts; remove and discard the bay leaf. Add the chestnuts to the soup pot, along with the beans. Tear the sage into small pieces and add that to the pot along with some salt and pepper. Add the milk and bring the soup to a simmer over low heat. Simmer slowly until all of the ingredients are tender and hot and the soup has a good flavor and consistency, about 15 minutes. If the soup becomes too thick as it simmers, you may want to add a bit of water or more milk to thin it a little, but it is supposed to be quite thick. (The soup is ready to finish and serve now, or you may cool and store the soup in the refrigerator for up to 3 days or in the freezer for up to 2 months.)
Serve the soup in heated soup plates or bowls topped with a drizzle of olive oil.
Copyright © 2022 The Culinary Institute of America