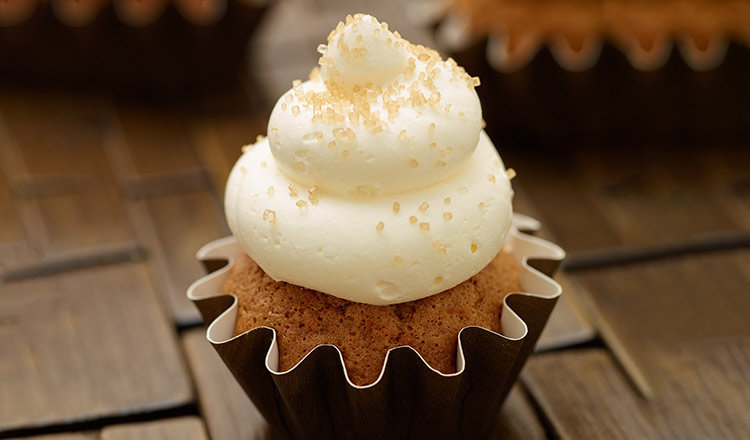 Makes 16 servings Carrot Cake Batter
Ingredients
1 1/3 cups whole wheat flour 1 teaspoon baking soda 1 teaspoon baking powder 1 teaspoon cinnamon 1/2 cup vegetable oil 1 cup sugar 2 eggs 3/4 cup diced pineapple 4 cups grated carrots 2/3 cup raisins 2 egg whites

Cream Cheese Frosting
Ingredients
3… Makes 16 servings
Carrot Cake Batter
Cream Cheese Frosting
Cupcakes
Frosting
Chef's notes:
If you have grating or shredding disks for your food processor, you can select how coarse or fine you want your grated carrots to be. The more finely you grate your carrots, the finer the texture of the finished cake will be. Coarsely grated carrots remain more visible in the baked cake, for an appealing flecked appearance and a delightfully rustic texture.
The frosting can also be made in a food processor by combining all of the ingredients and processing until smooth.
Ingredients
1 1/3 cups whole wheat flour
1 teaspoon baking soda
1 teaspoon baking powder
1 teaspoon cinnamon
1/2 cup vegetable oil
1 cup sugar
2 eggs
3/4 cup diced pineapple
4 cups grated carrots
2/3 cup raisins
2 egg whites
Ingredients
3 cups softened low-fat cream cheese
4 teaspoons vanilla extract
1 1/2 cups sifted powdered sugar
Directions
Preheat the oven to 450 degrees F. Place paper cupcake inserts inside cupcake pan.
Place the flour, baking soda, baking powder, and cinnamon in a large bowl. Mix until combined.
Beat the oil, sugar, and whole eggs with a mixer until smooth. Add the dry ingredients to the egg mixture and beat to blend well. Stir in the pineapple, carrots, and raisins.
Beat the egg whites in the mixer to medium peaks and fold into the batter.
Scoop 1/3 cup batter in each well of the muffin pan. The cups should be three-quarters full. Bake 10 minutes. Lower the oven to 350 degrees F and continue to bake for an additional 10 to 15 minutes or until toothpick comes out clean. Allow the cupcakes to cool to room temperature.
Directions
To make the frosting, beat the cream cheese and vanilla extract in the bowl of an electric mixer fitted with the paddle attachment until smooth. Add the powdered sugar and mix until smooth.
Top each cupcake with icing.
Copyright © 2022 The Culinary Institute of America