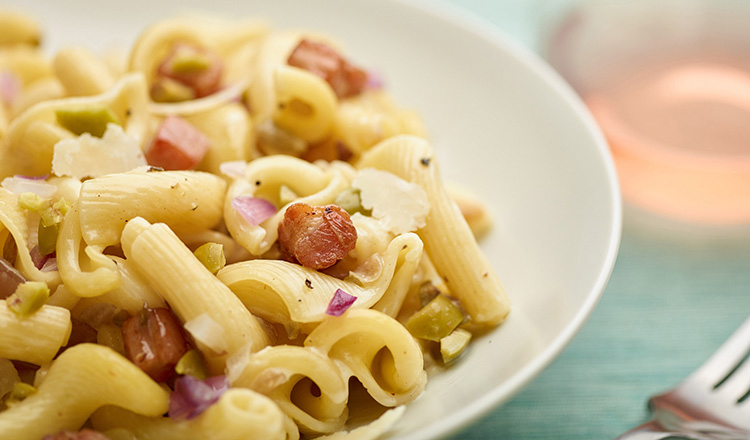 Serves 4 to 6
Ingredients
Kosher salt, as needed 1 lb dried campanelle pasta 1/4 cup extra-virgin olive oil 4 to 6 oz pancetta, cut into small dice 1 large red onion, cut into small dice 12 large green olives, pitted, and coarsely chopped 1 cup heavy cream 1/2 cup grated Pecorino Romano, plus… Ingredients
Kosher salt, as needed
1 lb dried campanelle pasta
1/4 cup extra-virgin olive oil
4 to 6 oz pancetta, cut into small dice
1 large red onion, cut into small dice
12 large green olives, pitted, and coarsely chopped
1 cup heavy cream
1/2 cup grated Pecorino Romano, plus more as needed for serving
Freshly ground black pepper, as needed
Directions
Bring a large pot of salted water to a boil over high heat. Add the campanelle and stir to submerge and separate the pieces. Cook, uncovered, until the pasta is just tender (al dente), 8 to 10 minutes (check the cooking time for your pasta).
While the pasta is cooking, heat the oil and the pancetta in a large sauté pan over medium heat. Cook, stirring frequently, until the pancetta is crisp and golden, about 3 minutes.
Add the onion and olives and cook, stirring frequently, until the onion is very tender, about 6 minutes. Add the cream and simmer the sauce over low heat until it is thickened and flavorful, about 4 minutes. Set aside.
Drain the campanelle in a colander, shaking well to remove the excess water. Add the pasta to the pan with the red onion and pancetta mixture. Add the cheese and pepper and toss the pasta and the sauce together over low heat until evenly blended, about 2 minutes.
Serve the campanelle at once on warmed plates, and pass cheese on the side.
Copyright © 2022 The Culinary Institute of America