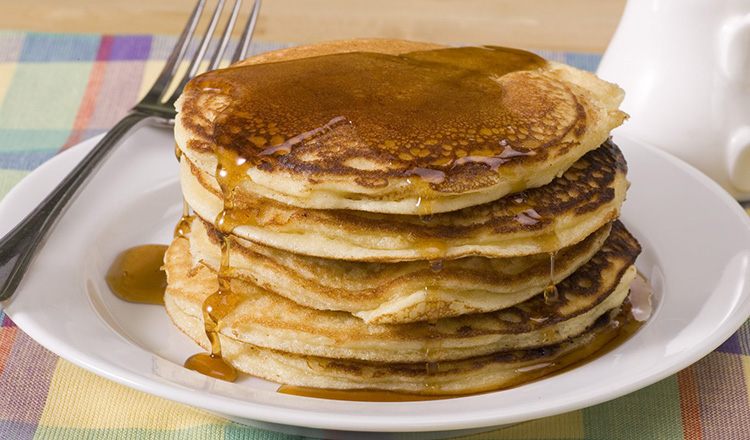 Makes 24 pancakes
Ingredients
1 1/2 cups all-purpose flour 2 tablespoons sugar 1/2 teaspoon baking powder 1/4 teaspoon baking soda 1/4 teaspoon kosher salt 1 3/4 cups buttermilk 2 large eggs 3 tablespoons unsalted butter, melted and cooled slightly Vegetable oil, as needed for the pan
Directions
Sift the flour, sugar, baking… Ingredients
1 1/2 cups all-purpose flour
2 tablespoons sugar
1/2 teaspoon baking powder
1/4 teaspoon baking soda
1/4 teaspoon kosher salt
1 3/4 cups buttermilk
2 large eggs
3 tablespoons unsalted butter, melted and cooled slightly
Vegetable oil, as needed for the pan
Directions
Sift the flour, sugar, baking powder, baking soda, and salt into a bowl and set aside.
In a separate bowl, blend the buttermilk, eggs, and butter. Add the buttermilk mixture to the flour mixture and stir by hand just until the batter is evenly moistened.
Heat a large nonstick skillet or griddle over medium-high heat. Grease it lightly by brushing with oil. Drop the pancake batter onto the hot skillet by large spoonfuls (2 to 3 tablespoons). Leave about 2 inches between the pancakes to allow them to spread and to make turning them easier.
Cook on the first side until small bubbles appear and then break on the upper surface of the pancakes and the edges are set, about 1 minute.
Use an offset spatula or a palette knife to turn the pancakes and finish cooking on the second side, 1 to 2 minutes more. Adjust the heat as needed to produce a golden brown color. Serve the pancakes immediately.
Copyright © 2022 The Culinary Institute of America